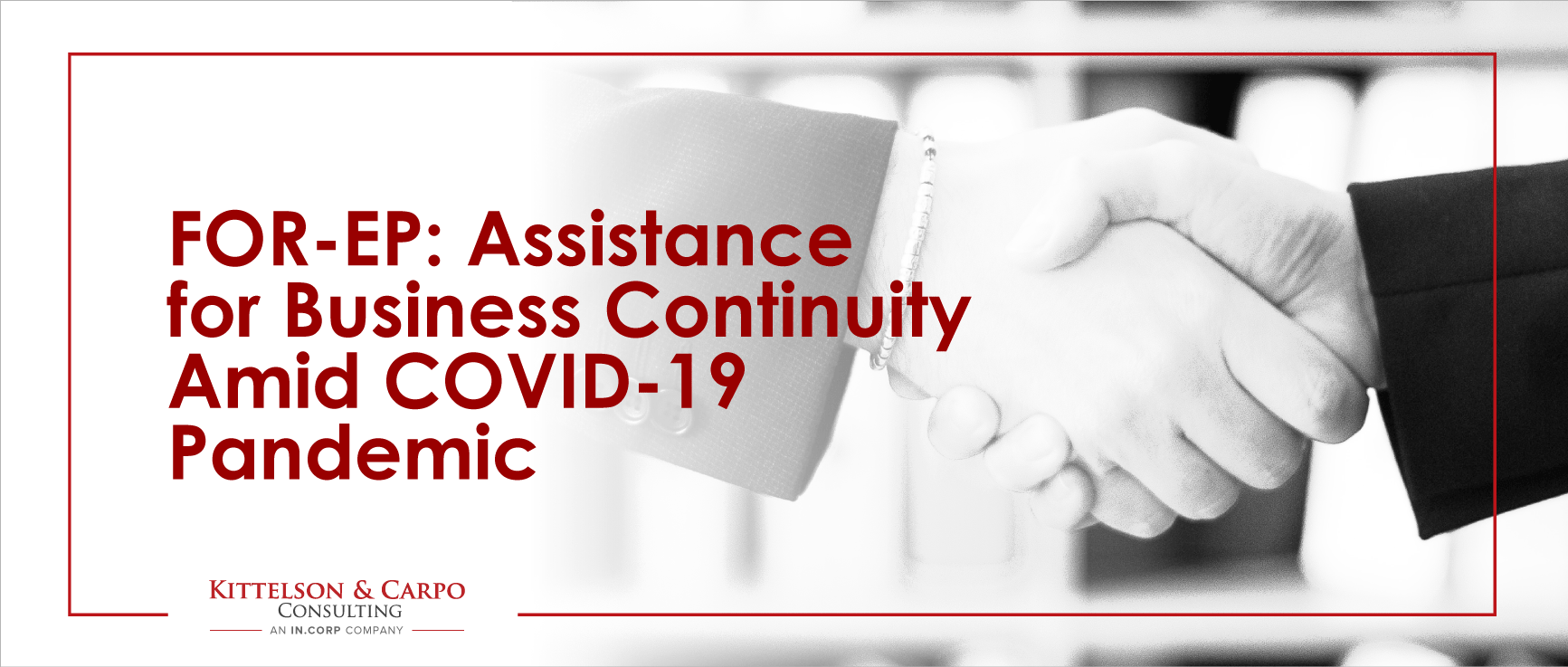 FOR-EP: Assistance for Business Continuity Amid COVID-19 Pandemic
The coronavirus disease (COVID-19) is not only a health crisis, it's also a corporate crisis that is posing business uncertainty around the world for the next few months, if not years. COVID-19 is spreading quickly, and as it continues, more lives and businesses are at risk.  
At Kittelson & Carpo Consulting, member firm in the Philippines of InCorp Group, we are committed to helping our clients stay on top of their business. And as they face this current crisis, we would like to extend help through our Financial and Operational Resiliency – Enterprise Program (FOR-EP), a program we launched to help our clients tackle the following: 
Declining Profitability

Negative Cashflow

High-Gearing Ratio 
What is FOR-EP?
FOR-EP is a diagnostics tool that provides a list of recommendations for business resiliency to help companies prepare and respond to short-term financial risks as the COVID-19 outbreak evolves.  
Initially gathering data and information from your financial statements and management accounts, our team of consultants will assess which business functions need critical monitoring so you can anticipate risks, effectively manage cashflows, and sustain operations amid the current crisis.  
With a set of financial KPIs, we will provide a thorough analysis of your company's financial performance, which shall include the following:
A simplified financial model which shall provide a solid forecast of your company's financial performance based on current operating conditions
Identify and highlight existing/potential weaknesses/gaps based on KPI results
A report which shall contain the data and information that we will use to analyze your business profitability and help improve your cashflow
How can FOR-EP enhance the financial and operational resilience of my business?
Depending on the findings of your FOR report, our business and financial consultants can assist you in the following business aspects: 
Revenue Modeling

Cost Analysis

Working Capital

Cashflow Management

Government Support

What-If Analysis

Mergers & Acquisitions

Human Resources

Other business aspects
What are the requirements I have to submit to get started?
The requirements you need to submit to avail FOR-EP are as follows:
Brief description of your business

Audited financial statements and management accounts from the past two years and management account and general ledger for the current year
What other benefits can I get from availing FOR-EP?
You can generate synergies across business strategies, allocate resources more efficiently, enhance customer trust, and be able to anticipate new challenges as the COVID-19 pandemic evolves. 
Through FOR-EP, our firm seeks to ensure your business is able to adapt to economic distresses and build continuity for your critical business functions. 
Stay on top of your business amid COVID-19
Kittelson & Carpo Consulting is ready to help you lead your company through this crisis by providing the right tools and expert advice.