International Expansion Services for Local and Foreign Enterprises in the Philippines
The Asia-Pacific region is known to be home of the fastest growing economies in the world. Many in the region boast a high labor force while providing numerous fiscal and non-fiscal incentives to attract foreign investments to help boost their economic development.
What We Offer
We have an extensive network of incorporation, tax, accounting, and legal consultants across seven countries in the Asia-Pacific region. As part of the InCorp Group of Companies, InCorp Philippines can connect your business with appropriate incorporation consultants to help you as you expand your business in the region.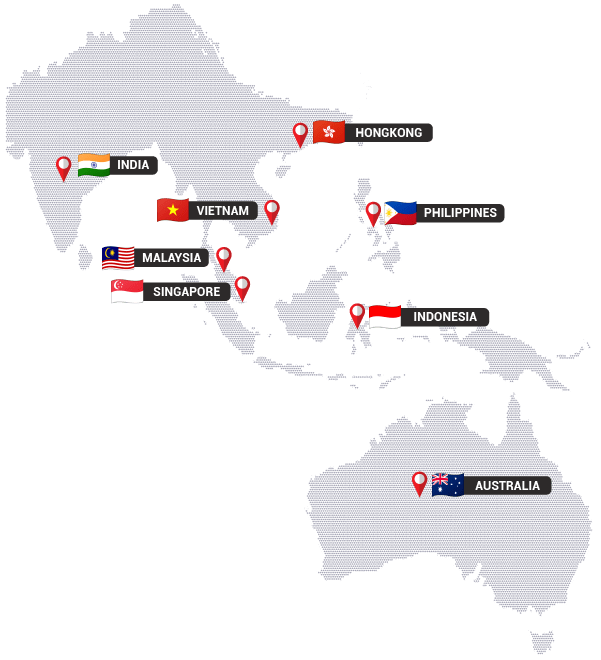 Singapore – Our parent company, InCorp Global handles company incorporation, tax, and legal matters for local and foreign enterprises who wish to invest and set up a business in Singapore and across the Asia-Pacific region. 
Hong Kong – Hong Kong is a business gateway for enterprises who wish to enter the Chinese market. InCorp provides corporate solutions, from business registration and licensing, company secretarial, tax and accounting, payroll management, and immigration and relocation, to local and foreign enterprises who wish to set up their business in the region. 
Indonesia – With over 500 legal experts serving over 12,000 clients across the region, Cekindo Indonedia provides transparent legal consulting, setup, and advice for local and foreign enterprises in the Indonesian market. 
Vietnam – Vietnam is a powerhouse of industrial and infrastructure developments and free trade agreements. Our Vietnam office, Cekindo Vietnam, has a wide range of industry experts, from corporate solutions to legal services, that are dedicated to assisting foreign firms establish a business in Vietnam with ease. 
Malaysia – With a strong presence across Kuala Lumpur, Selangor, Johor, and Sabah, WeCorporate is a leading corporate service provider for local and foreign enterprises seeking to set up a business in Malaysia. They specialize in assisting enterprises with accounting, company secretary, LLP incorporation, and tax services. 
India – We provide a one-stop-shop of corporate services dedicated for local and foreign enterprises seeking to penetrate the Indian market. Our office in India, InCorp Advisory, provides corporate solutions to 15 major cities across India, including Mumbai, New Delhi and Bangalore. 
Australia – Recently acquired by InCorp Global in late 2021, CharterNet Advisers joined the InCorp Group of Companies in efforts to further provide corporate solutions services in the southernmost part of Asia-Pacific. They specialize in providing business advisory, tax, and accounting services to emerging businesses and foreign enterprises seeking to establish in Australia. 
Expand Your Business Across Asia-Pacific
Business expansion can be a challenging feat to overcome. With numerous regulation differences between different territories, it can be difficult to secure proper company incorporation procedures for your business. 
With a wide range of industry contacts and international partners, you can enjoy a seamless and streamlined business expansion experience to help you increase your chances at penetrating multiple markets within the Asia-Pacific region. 
Experience a Hassle-Free Business Expansion Process
With a full suite of corporate services paired with strong international partnerships, our team is dedicated to helping you secure a seamless and fast business expansion process for your business in the Philippines.