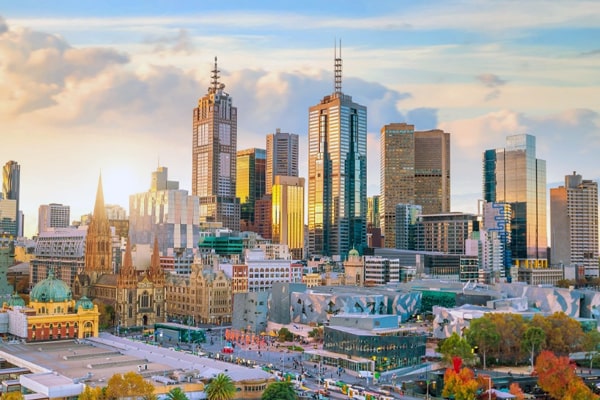 Our team of
BUSINESS CONSULTANTS
can help you register your business in Australia
Company Incorporation Process for Foreign Enterprises in Australia
Foreign investors and enterprises seeking to establish a business in Australia must comply with relevant corporate laws, licenses, and registration requirements to be allowed to legally operate in the country. Allow us to streamline the process by providing you with end-to-end corporate solutions for your next venture down under.
Australia is known to be one of the easiest places to do business worldwide. In 2020, Australia ranked 14th against 190 countries in the Doing Business Report conducted by the World Bank Group. The country boasts an open market with minimal restrictions on imports of goods and services along with its diverse and highly-educated workforce and an abundant source of natural resources. 
How to Register a Foreign Business in Australia
Generally, Australian laws require all foreign enterprises to register as a Registered Foreign Company with the Australian Securities and Investment Commission (ASIC). Afterward, foreign entrepreneurs will need to follow a 7-step process to fully incorporate their business to be allowed to conduct business operations in Australia.
Before starting a business, it is imperative to determine which business entity type best caters to your business needs. Your business entity type controls numerous factors towards your company such as level of control or ownership, tax amount, regulatory obligations, health and safety requirements, and personal liability. Knowing which best suits your company can give you a good head start on securing a successful business. 
In Australia, foreign enterprises can choose among four available business entity types:
Private Limited Liability Company (Pty Ltd)

Branch Office

Representative Office

Shelf Company
As mentioned, your taxes, corporate compliances, and other requirements may vary depending on the chosen type of business entity you registered for your company.
Foreign enterprises must reserve and register their business name before anything else. You can check the availability of your business name by using the business name search tool provided by the ASIC. 
If your name is available, you must fill out Form 410 – Application for Reservation of a Name to reserve your business name. ASIC will reserve your business name for no more than two months. It is best to keep in mind to promptly register your business under the desired name once your application has been approved. 
ASIC will require a reservation fee of AU$51 for the application. 
As a foreign company, you must duly accomplish Form 402 – Application for Registration as a Foreign Company. Before lodging your application, you are required to include the following documents:
Certificate of Registration. The certificate must be dated no earlier than three months before lodgment with ASIC

A certified copy of the company's constitution (certified by the ASIC, notary public, or a company officer with a duly certified affidavit)

A duly accomplished

Form 418 – Memorandum of Appointment of Local Agent

.

A memorandum stating the powers of directors
Once you have all of the documents ready, submit your Form 402 application to the address: Australian Securities and Investments Commission PO Box 4000 Gippsland Mail Centre VIC 3841 and wait for processing and approval. 
The lodgement cost for foreign company registration is AU$506.
An Australian Registered Body Number (ARBN) is a nine-digit number unique to your company. This number is issued to registered foreign companies in Australia and acts as an identifier of your business under the ASIC. 
Generally, it takes up to 28 business days for ASIC to process and approve your application. Once you have received your ARBN, companies must display their ARBN on all of their public documents, including negotiable instruments published and signed in Australia.
Post-Registration Checklist for Foreign Registered Companies in Australia
Besides registering your business and acquiring the necessary documentation, entrepreneurs must secure the following post-registration obligations for their business in Australia. 
Appointment of a Local Agent
Australian laws require registered foreign companies to appoint a local agent to handle matters of your foreign company. Moreover, under the Australian Corporations Act fo 2001, they define a local agent as:
Person who is answerable for the doing of all acts, matters, and things that the foreign company is required to do by, or under, the Corporations Act

Personally liable for a penalty imposed on the foreign company for a contravention of the Corporations Act if a court or tribunal hearing the matter is satisfied that the local agent should be so liable
To appoint a local agent, your must secure and accomplish Form 418 – Memorandum of Appointment of Local Agent. This is also used when replacing or appointing new local agents for your company. Moreover, a Form 404 – Notification of Change to Agent of a Foreign Company must be attached with Form 418 when appointing a replacement of your local agent. 
Proper Display of Company Name and ARBN
You must ensure to properly display your company name legibly in a conspicuous position outside every office and place of business in Australia. It must also display its place of origin, the words "registered office at its registered office, and the word Limited or Ltd, or a notice that the liability of its members is limited, if that is the case.
It must also display the following:
Place of origin

The words "Registered office" at its registered office

The words "Limited",  "Ltd", or a notice that the liability of its members is limited
In the case of ARBNs, Australia provides strict guidelines for the proper usage of your company's registration number. Pursuant to the Corporations Act, the ARBN must also be displayed on all of the company's public documents, including negotiable instruments published and signed in Australia.
Lodging of Financial Statements
Foreign companies must submit financial statements annually. In Australia, financial statements are comprised of a balance sheet, profit and loss, and cash flow statement, a Form 405 – Statement to Verify Financial Statements of a Foreign Company and any other documents the company may be required to prepare that is applicable to their business based on municipal and local regulations.  
A lodgement fee of AU$1260 is required. Enterprises exempt from Form 405 must submit a counterpart Form 406 – Annual Return of a Foreign Company for the same fee. 
Ease Your Company Incorporation Process in Australia
Setting up a business in Australia can come with numerous benefits and incentives, allowing you to fully maximize their market and expand fruitfully into the country. We provide an extensive and fully-equipped regional and in-country teams to best support you when incorporating your next business venture in Australia, as well as within Asia-Pacific.
Achieve a Hassle-Free Company Incorporation Experience
With a full suite of experienced business consultants, legal counsels, and visa specialists, we can help provide you with a comprehensive incorporation process in Australia, as well as other regions within Asia-Pacific.