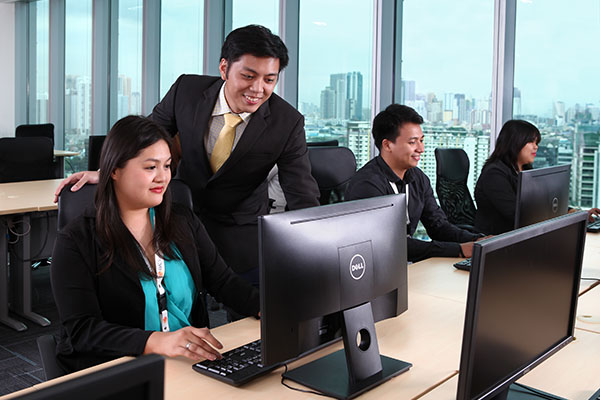 Looking for a
COST-EFFECTIVE AND TRANSPARENT
outsourcing solution in the Philippines
Staff Leasing Services in the Philippines
For those who are not ready to make the full investment of forming their own company in the Philippines and establishing their own office location, InCorp Philippines offers Offshore Leased Staff & Virtual Employee Solutions. Our offshore staff leasing model is a cost-effective, efficient, and transparent outsourcing solution.
InCorp Philippines provides customized staff augmentation services in Makati, BGC and other selected areas in Metro Manila and Cebu from a carefully handpicked pool of skilled college educated professionals. We also provide the infrastructure, facilities, and tools you need for your business operations while you provide the directives to your new virtual team in the Philippines.
Cut Costs, Increase Productivity
Cut your payroll up to 70% or more while exponentially increasing the output of your staff by hiring more employees without raising your staffing costs. Outsource non-core functions to highly talented dedicated virtual team, at a fraction of the cost so you can focus on your core business, increase your productivity and save on your bottom line.
Contract Duration
All leased employees fall under the InCorp Philippines company umbrella with full payroll and HR services. Contracts are generally a six month minimum. If you plan to register your business in the Philippines through InCorp Philippines, you have the option to transfer your dedicated employees over to your own new company.
Facilities & Infrastructure
Locations in class A buildings in Metro-Manila & Cebu
Private rooms with biometrics access
Cubicles and desks options
Internet and IT infrastructure
Conference, interview and training rooms
Online HR software system
Quality of Leased Staff & Employees
College-educated

Fluent in English

Experience in IT-BPO industry

100% dedicated to you

40 hour work week (any time zone)
Benefits to Offshore Staff Leasing
Plug-n-play

No government taxes

No unemployment insurance costs

No payroll headaches
No accounting

24/7 scheduling
Types of Staff & Employee Leasing
Administrative assistant

Personal assistant (virtual assistant)

IT

Programmer or Developer

Webmaster

Web Designer

Web Developers

Animators

Data Entry, Mining, or Encoders

Creative Writers

Video Editors

SEO & SEM

Back office

Data entry and processing

Medical transcription

Legal transcription

Accountant

System or server administrators

Registerd nurses
Managing your Leased Employee
Your leased employee or virtual employee will work directly under you and be 100% dedicated to you and your projects.
Process in Getting Started with your Dedicated Leased Employee