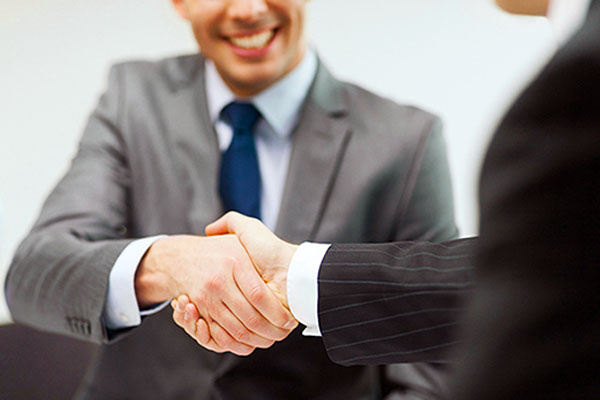 Our team of
EXPERTS AND PARALEGALS
can help you register your business in the Philippines
Company Incorporation Services in the Philippines
A Domestic Corporation ("DC") is the most common type of corporation set up by investors in the Philippines. It is a corporation formed, organized or existing under Philippine laws. It is popular among foreign investors because it is more administratively feasible and flexible in terms of foreign ownership.
DC requires a minimum of five (5) incorporators, each of whom must be actual persons and who must hold at least a single share in the company. A majority of the incorporators must be Philippine residents although may not be citizens of the Philippines.
Types of Domestic Corporation in the Philippines
Domestic Corporation with 0% Foreign Equity (All Filipino)
Domestic Corporation with 0.01% to 40% Foreign Equity
Foreign Owned Corporation – with 40.01% to 100% Foreign Equity (Under Foreign Investments Act)
Free* Consultation with our Business Consultants
Determine company formation
Determine minimum capital requirement for incorporation
Identify other business licenses as may be required by law
Check availability of company name from SEC or DTI
Identify Shareholders, Incorporators, and Directors
*Subject to the determination of the consultant
The Securities and Exchange Commission (SEC) is the national government regulatory agency tasked with supervising the corporate sector. The life of a corporation starts only after successful registration with SEC.
The SEC requires prospective corporations to reserve and register a name, submit proposed Articles of Incorporation and By-Laws (which must be consistent with the requirements of the Corporation Code of the Philippines), and prove they have the minimum capital requirement for the industry that they plan to engage in. Under the Foreign Investment Act (FIA), a USD 200,000 minimum paid-up capital is required for corporations with foreign equity of more than 40% and are classified as Domestic Market Enterprises (DMEs) except when involved in advanced technology or will employ at least fifty (50) employees, then only USD 100,000 is required.
Corporations that will engage in the export of goods/services or generate revenue from abroad comprising more than 60% of their gross sales can be 100% foreign-owned and considered as Export Market Enterprises (EMEs) under the FIA. Both domestic corporation and branch office which are EMEs can be registered with as low as PHP 5,000 in paid-up capital. However, most banks require PHP 25,000 – 50,000 to open a corporate bank account.
The issuance of a Certificate of Incorporation by SEC signifies the commencement of corporate existence and juridical personality of a company. Before commencing operations in the Philippines, companies must also register with the following government agencies:
Local Government Unit (LGU) where the principal office will be located;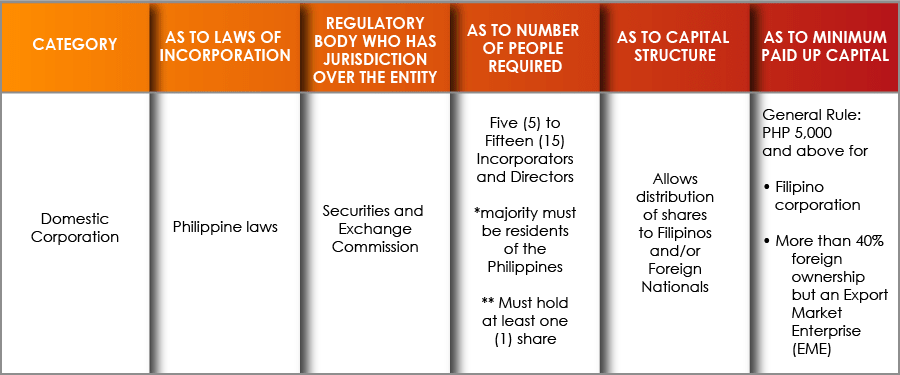 Business/Company Incorporation in the Philippines FAQs
What are the types of business/company incorporation in the Philippines?
There are four types of corporations you can incorporate in the Philippines:
Domestic Corporation with 100% Filipino ownership
Domestic Corporation with 0-40% foreign ownership
Domestic Corporation with 40-100% foreign ownership
One Person Corporation
What is the process of business/company incorporation in the Philippines?
Generally, incorporating a business in the Philippines has four steps:
Reserve company name and submit application documents to the Securities and Exchange Commission (SEC) to obtain SEC Certificate of Registration
Obtain business permits from local government units (LGUs)
Register business with the Bureau of Internal Revenue (BIR) to obtain BIR Certificate of Registration and corporate tax number
Register with other government agencies as employer:

Social Security System (for social security benefits);
PhilHealth (for health benefits); and
Pag-IBIG Fund (for housing benefits)
What are the requirements for business/company incorporation in the Philippines?
The documentary requirements for incorporating a company in the Philippines are:
Company Name Verification Slip
Articles of Incorporation and Bylaws
Treasurer's Affidavit
Notarized Bank Certificate of Deposit showing the paid-up capital
Registration Data Sheet
Endorsements/Clearances from government agencies (if will engage in a regulated industry)
What is the timeline of business/company incorporation in the Philippines?
The usual timeline for incorporating a company in the Philippines is 45 days, provided all required documents are submitted as early as possible and there are no processing delays from the government.
Want to incorporate a company in the Philippines?
We have incorporated over a thousand small-and-medium enterprises (SMEs), startups, and multinational companies in the Philippines