Executive Search Firm in Metro Manila, Philippines
InCorp Philippines Recruitment division has a dedicated Executive Search division that provides Executive Recruitment and Headhunting services to local and foreign companies looking to fill vacancies in senior management, C-level or executive, hard-to-find, and niche employment positions in the Philippines.
Our Executive Recruiters and Headhunters utilize active and passive talent sourcing through multiple recruitment channels to locate and attract top performers with the ideal skill sets and competencies you need to add to your organization.   
Our Executive Search services offer you with favorable access to the Philippines' executive and high-skilled talent pools. We primarily source for candidates in Metro Manila's bustling cities of Makati, Bonifacio Global City (BGC), Quezon City, Mandaluyong, and Ortigas Center but we can extend our services to cater clients looking for top talent from the cities of Cebu, Davao, Iloilo, Bacolod, and Santa Rosa, Laguna.    
C-Level and Senior Management Recruitment
We help companies of varied sizes identify high-level talent so they can develop a dynamic leadership team with the right combination of skills and character traits. We will assist you in establishing an internal pipeline of senior leaders capable of executing quality solutions and driving long-term success to your company.     
We provide a full suite of Executive Recruitment solutions rooted in industry best practices and experience-based methodologies, from executive skills assessment and market benchmarking to strategic salary alignment and culture fit evaluation.
Our Executive Search team sources for the following C-level and senior management positions:
Vice President

Director

Chief Executive Officer (CEO)

Chief Financial Officer (CFO)

Chief Operating Officer (COO)

Chief Information Officer (CIO)

Chief Technology Officer (CTO)

Chief Knowledge Officer (CKO)

Other C-level job titles
Senior Management Positions
Finance Manager

Operations Manager

Project Manager

Marketing Manager

HR Manager

Sales Manager

Technical/IT Manager

Business Development Manager

Other managerial positions
Niche and Technical Positions Recruitment
We also locate top-performing individuals for specialized positions with limited available talent in the market. We employ targeted selection and advanced research tools to source candidates who are employed and not actively seeking new employment opportunities but are the perfect fit for your vacancies.
We exhaust multiple talent mapping strategies to create a strong slate of candidates with skill sets and professional backgrounds that match your exact specifications – providing you with an excellent avenue to assess who among your top picks have the most potential to excel and take more challenging roles in your organization.           
Our Headhunting team identifies exceptional candidates for hard-to-find positions in the following industries:
Construction and Engineering

Power and Energy

Automotive

Manufacturing

Banking and Finance

Healthcare

Information and Communications Technology (ICT)
e-Commerce

Information Technology – Business Process Outsourcing (IT-BPO) and Shared Services

Supply Chain and Logistics

Other local industries
We also provide Headhunting services for niche positions in the following specialized fields:
Internet of Things (IoT)

Software-as-a-Service (SaaS)

Software Development

Mobile App Development
Financial Technology (fintech)

Medical Technology (medtech)

Educational Technology (edtech)

Other specialized fields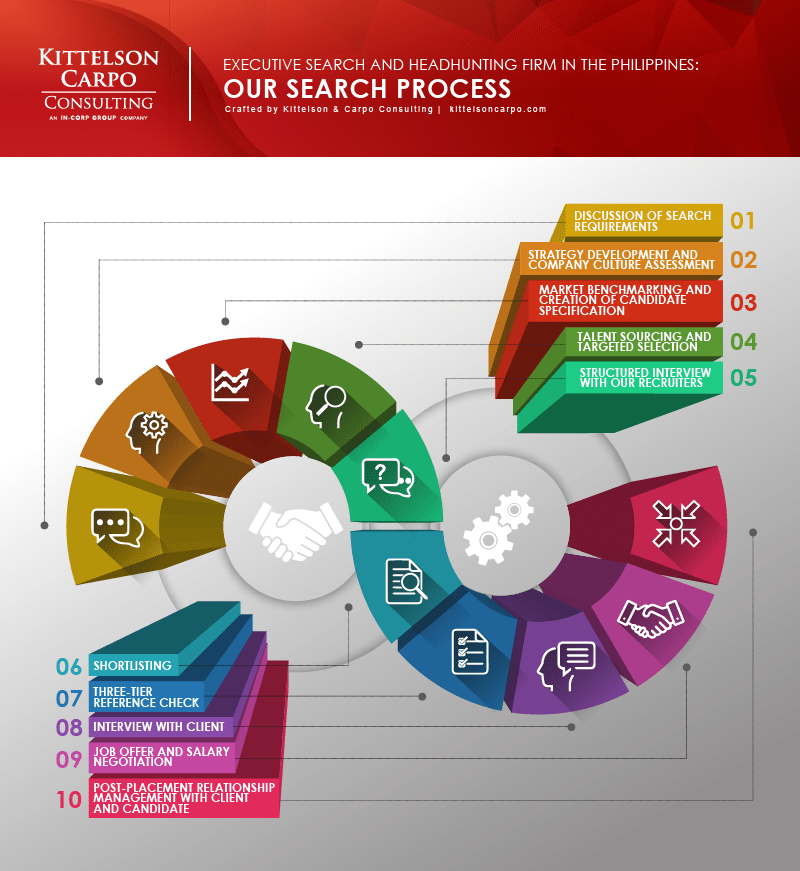 Executive Search in the Philippines FAQs
What is the usual executive search process in the Philippines?
The usual executive search process in the Philippines involves six steps:
Discuss talent requirements
Source candidates
Recruiter interviews candidates
Shortlisting and background check
Endorse to client for interview
Onboarding
How long does the executive search process in the Philippines usually take?
Depending on the complexity of the role and availability of talent in the job market, the executive search process can last from 30-45 business days.
What are the executive search processing requirements?
To avail executive search services in the Philippines, you need to submit the following requirements:
Government Registration Certificates (SEC registration and business permits)
Company Details
Job Description (salary range, job responsibilities, and job qualifications)
Connect with top-performing executives in the Philippines
We source C-level talent using advanced research tools and wide industry networks.