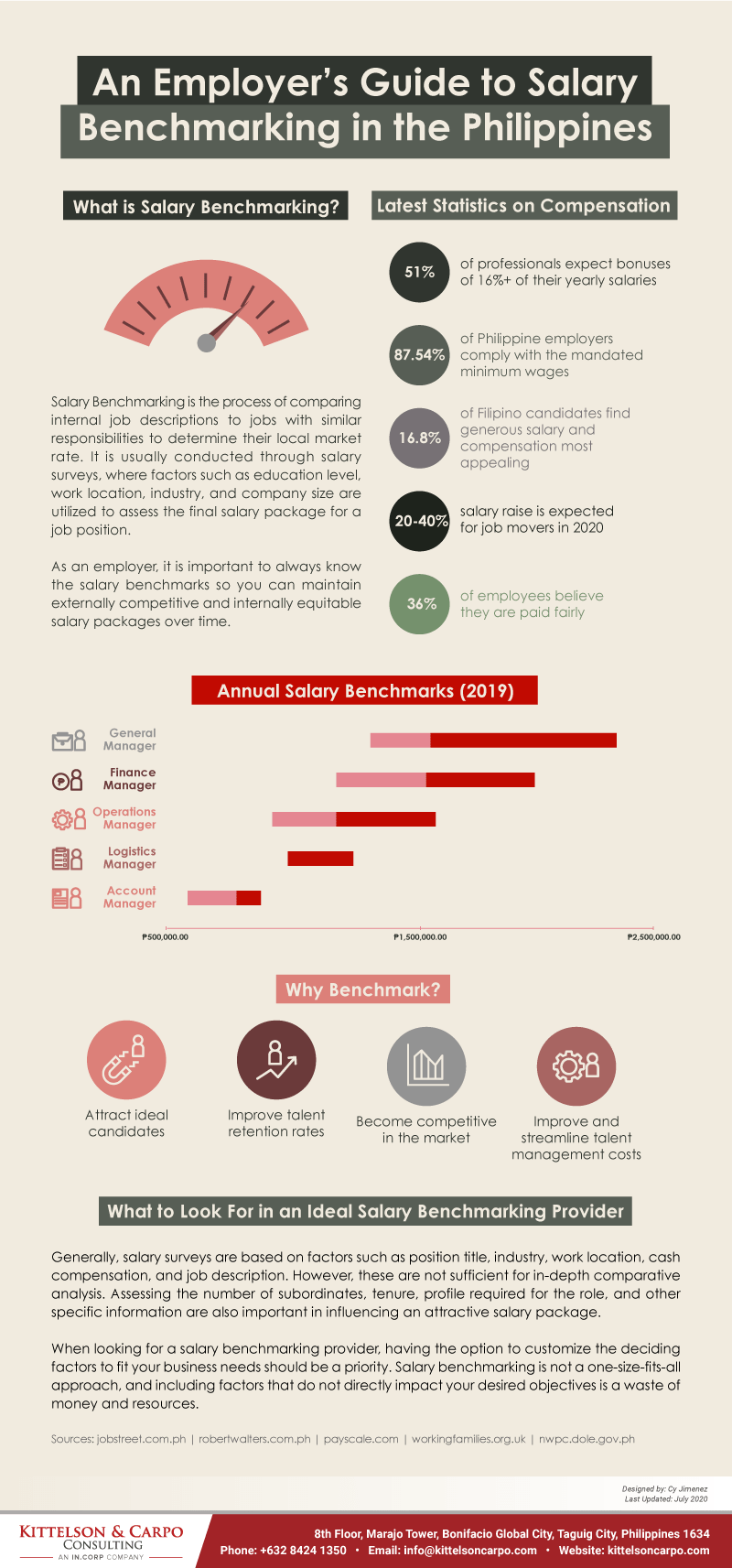 An Employer's Guide to Salary Benchmarking in the Philippines [infographic]
What is Salary Benchmarking?
Salary Benchmarking is the process of comparing internal job descriptions to jobs with similar responsibilities to determine their local market rate. It is usually conducted through salary surveys, where factors such as education level, work location, industry, and company size are utilized to assess the final salary package for a job position. 
As an employer, it is important to always know the salary benchmarks so you can maintain externally competitive and internally equitable salary packages over time.
Why benchmark?
Attract ideal candidates

Improve talent retention rates

Become competitive in the market

Improve and streamline talent management costs
Latest Statistics on Compensation
51% of professionals expect bonuses of 16%+ of their yearly salaries

87.54% of Philippine employers comply with the mandated minimum wages

16.8% of Filipino candidates find generous salary and compensation most appealing

20-40% salary raise is expected for job movers in 2020

36% of employees believe they are paid fairly 
What to Look For in an Ideal Salary Benchmarking Provider
Generally, salary surveys are based on factors such as position title, industry, work location, cash compensation, and job description. However, these are not sufficient for in-depth comparative analysis. Assessing the number of subordinates, tenure, profile required for the role, and other specific information are also important in influencing an attractive salary package. 
When looking for a salary benchmarking provider, having the option to customize the deciding factors to fit your business needs should be a priority. Salary benchmarking is not a one-size-fits-all approach, and including factors that do not directly impact your desired objectives is a waste of money and resources.
Sources: jobstreet.com.ph | robertwalters.com.ph | payscale.com | workingfamilies.org.uk | nwpc.dole.gov.ph
Do You Need Professional Advice on Salary Benchmarking in the Philippines?
Our HR Consultants will help you make informed decisions on your remuneration packages so you can attract and retain top talent.