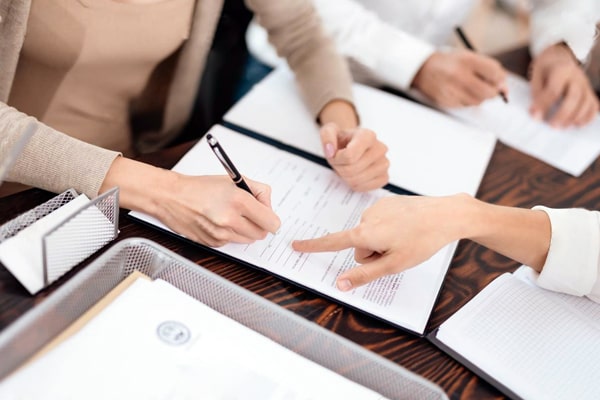 Our team of
EXPERTS AND PARALEGALS
can help you register your business
Company Incorporation in Singapore
Singapore has held on to its decade-long top rank as the easiest place to do business in the world, according to the Doing Business 2017 report conducted by World Bank – which measures regulatory environments across jurisdictions, to determine how conducive their economies are in facilitating the start-up and operations of a business.
Singapore's consistent ranking is greatly attributed to its easy company incorporation process, pro-business government regulations, attractive tax incentives and corporate tax rates of 0% to 17%, state financial grants, incentives for headquarter setup, and strong intellectual property (IP) protection laws. It has the most attractive business climate in Asia. Many startup and multinational companies establish their headquarters in the city-state and use it as a springboard to tap into the other emerging markets in the Asia-Pacific region.
Setting Up a Company in Singapore
If you are a foreign investor seeking to start your own company in Singapore, you will need to engage the services of a professional corporate services provider to help you through the incorporation process and successfully register your company. This is a requisite because non-residents are not permitted to self-register a business entity under the Singaporean law.
You have to take note that the incorporation process itself and the work permit formalities associated with it can be handled without you having to visit Singapore or physically relocate in the country. You are not required to obtain a Singapore work visa to incorporate a private limited company if you intend to operate your company from overseas. You only have to appoint a nominee resident director to satisfy the minimum requirement of one resident director. You can avail the services of a corporate solutions provider to appoint a suitable candidate on your behalf.
However, if you plan to relocate to Singapore to handle your company's business operations and act as the resident director, you will be required to obtain an Employment Pass or Entrepreneur Pass (EntrePass). You can apply for an Employment Pass or EntrePass within six months after your company has been incorporated. But to fulfill the statutory requirement of appointing a minimum of one resident director before the incorporation procedure, you have to elect a nominee resident director while your Employment or EntrePass is in the process of being approved.
Company Incorporation Requirements
The city-state's business incorporation procedure is acclaimed as one of the fastest and most accessible in the world – which usually takes an average of two-and-a-half days provided that all requirements are accomplished. Applications for incorporation are conducted online and submitted to the Accounting and Corporate Regulatory Authority's (ACRA) electronic portal.
1. Company Name
Your Company Name must first be approved by ACRA before your company can become eligible for incorporation in Singapore. Company names are typically approved or rejected within an hour, but ACRA reserves the right to delay the reservation for proposed names that include specific references to regulated industries (e.g., school, bank, finance, law or media) and might require the review and approval of external government authority. The request for approval from the relevant government authority can take between 7 days to 2 months. ACRA can also reject a proposed company name if it is undesirable or bears a resemblance to another existing company name.
2. Resident Director
At least one Resident Director needs to be appointed. S/he must be an "ordinarily" resident in Singapore, which can refer to any of the following:
a Singaporean citizen;
a Singaporean permanent resident; or
a person who holds an Employment Pass/EntrePass or a Dependent's Pass
S/he must also have a valid residential address in Singapore. There is no established maximum limit on the number of additional local or foreign directors that can be appointed. All directors must be at least 18 years of age and must not be bankrupt or convicted of any criminal malpractice. Directors can also become shareholders.
3. Shareholder
At least one Shareholder is required by law and s/he may also be a director in the company. A maximum of 50 shareholders for a private limited company is allowed in the country through the Singapore Companies Act. The country also allows 100% foreign shareholding, and after your company is successfully incorporated, shares can be freely distributed or transferred any time.
4. Resident Company Secretary
All companies are required to appoint a competent Resident Company Secretary within six months of incorporation. The company secretary's primary responsibility is to ensure regulatory compliance with requirements imposed by the government. S/he must be an "ordinarily" Singaporean resident with a valid residential address in Singapore. Sole directors and shareholders are prohibited from acting as company secretary.
5. Registered Address
Your company needs to have a physical Singapore address as its Registered Address. This address can be a residential or commercial address, but cannot be a P.O. box. All government bodies and entities will send notices and official documents to your registered office address, and you should ensure that any incoming mail sent there is checked regularly.You can have the option of going for a virtual office service if you do not want to make a significant investment in renting a physical office space. Your virtual office service provider can offer mail notification and mail forwarding services, a dedicated phone line, and flexible meeting room facilities.
6. Paid-Up Capital
The minimum Paid-Up Capital for company incorporation in Singapore is S$1. This amount is significantly low compared to the required paid-up capital from other affluent countries and does not have to be evidenced by a bank statement. It can, however, be increased any time after incorporation.
How to Know If Your Company Has Been Successfully Incorporated
If your company has been successfully incorporated, ACRA will send an e-mail notification outlining the details of incorporation, including the company registration number, date of issuance, etc. The e-mail notification serves as the Official Certificate of Incorporation in Singapore – a hard copy of it can be obtained from ACRA for S$50 per copy. A PDF version of your company's business profile can also be obtained by sending an online request and paying a small fee.
Next Steps After Company Incorporation
After incorporating your company in Singapore, you are eligible to open a corporate bank account in any of the local or international banks based in Singapore. Since most banks require account signatories and directors to be physically present in Singapore as part of the account opening procedure, you need to consult your professional corporate services provider on how to alternatively comply with the account opening requirements if you will not be able to visit the country.
You also have to be mindful of the business licenses and permits that you have to secure before you start your business operations. Approval from relevant government agencies may be required for some of your proposed business activities if they are subject to regulation by government authorities. Educational institutes, video companies, travel agencies, moneylenders, financial advisers, banks, and import/export-related industries are some examples of businesses that need licenses to operate.
Above all, you must comply with the statutory requirements set by ACRA and the Inland Revenue Authority of Singapore (IRAS). The Singapore Companies Act mandates specific annual filing requirements and formalities that are subject to strict compliance. Non-compliance with the mandatory requirements or late submission thereof will incur penalties or court persecution.
How InCorp Can Help
If you want a more detailed enumeration of how to set up your business or company headquarters in Singapore, let our parent company, InCorp, help you. InCorp is the leading provider of professional corporate solutions for businesses in Southeast Asia and delivers a one-stop service for those looking to establish their first office or expand their existing operations in the country. The firm specializes in company incorporation, corporate compliance, accounting, taxation, expansion advisory services, and is dedicated to supporting your business all the way from its initial conception in Southeast Asia to its corporate growth and regional expansion in the Asia-Pacific region.
Incorporate your Company in Singapore
InCorp will guide you through the incorporation process and help direct your business to the forefront of your industry. Our in-country specialists will attend to your business requirements and help you enjoy a seamless company formation in Singapore.