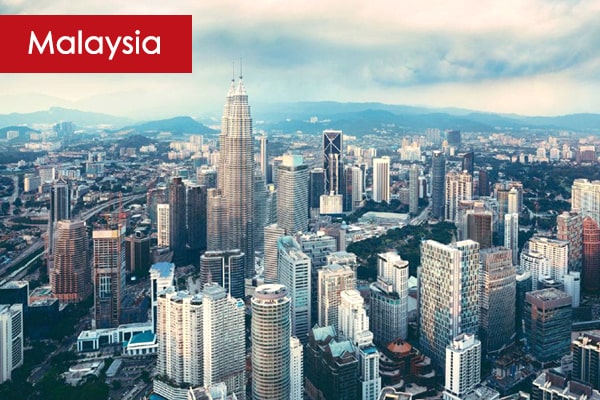 Our team of
EXPERTS AND PARALEGALS
can help you register your business in the Philippines
Company Formation in Malaysia
Foreign investors seeking to do business in Malaysia are allowed to set up any of the following entities:
Private Limited Company (Malaysian: Sendirian Berhad or Sdn Bhd)
Foreign Company
Those who want to incorporate a company in Malaysia can establish a Private Limited Company (Sdn Bhd). This legal entity requires a minimum of one shareholder and at least one resident director. Stockholders are only liable to the extent of their contribution to the capital. An Sdn Bhd can only have a maximum of 50 shareholders and its company shares are not open to the public.

Foreign investors who have existing businesses abroad and want to establish a local branch in Malaysia for local operations or back-office purposes can set up a Foreign Company. This type of entity doesn't require a resident director. 
Requirements for Setting Up a Company in Malaysia
Proposed Company Name
Foreign individuals must reserve a company name with the corporate registry, the Companies Commission of Malaysia (Malaysian: Suruhanjaya Syarikat Malaysia or SSM), to register a business. 
They are advised to prepare at least three alternative company names in case their first choice is already taken or denied due to several reasons such as the proposed name is already reserved, offensive, contains prohibited words, or closely resembles a registered company name/s.  
Shareholder/s
At least one shareholder is required for Sdn Bhd. Shareholders can be a body corporate or an individual. Sdn Bhd can only have a maximum of 50 shareholders. 
The Malaysia Companies Act of 2016 allows sole individuals to register an Sdn Bhd. They can be the only shareholder and director of the company.  
Director/s
For Sdn Bhd, at least one resident director is required. Such individual must not be a disqualified director under the Companies Act (i.e., under 18 years old, bankrupt, or convicted of any offense). 
Corporate Secretary
Those seeking to incorporate an Sdn Bhd must appoint a Corporate Secretary within 30 days of incorporation. To be eligible to assume the role, the Corporate Secretary must have a principal place of residence in Malaysia and needs to either be licensed by the SSM or be a member of a professional organization prescribed by the Ministry of Domestic Trade and Consumer Affairs.  
Paid-up Capital
The minimum paid-up capital for setting up a company in Malaysia is RM 1. 
Registered Office Address
Foreign investors must have a registered office address in Malaysia to complete the company registration process. Those who are not able to set up an office address immediately during registration can avail of virtual office space services to satisfy the requirement. They can amend their incorporation documents as soon as they acquire a registered office address.   
Step-by-Step Process of Incorporating a Company in Malaysia
Reserve Company Name
Foreign investors must register an account on the MyCoID portal as an individual user. Upon activation of their account, they must validate their registration at the nearest SSM counter. After SSM validates their account, they must provide their login credential on the portal. 
Thereafter, they can begin reserving their proposed company name. If their proposed name is already reserved, contains prohibited words, offensive, or closely resembles a registered company name/s, they will not be able to proceed. Preparing at least two alternative company names is recommended. 
Submit Accomplished Application Form
After a proposed company name is approved, the applicant must accomplish the "Super Form", an application form which requires information about the company to be provided, i.e., proposed company name, type of legal entity, proposed business activities, paid-up capital, pertinent details of shareholder/director/promoter, and a declaration from the director or promoter that they are not bankrupt or convicted of any offense in Malaysia or abroad.  
Declare Compliance and Payment of Incorporation Fee
After accomplishing the Super Form and providing a necessary declaration that requirements under the Companies Act are already complied with, foreign investors can proceed with paying the incorporation fee.
They must pay the incorporation fee of RM 1,010 (inclusive of tax) and obtain a transaction receipt. 
Receive the Registration Certificate
As proof of successful incorporation, they will receive a Notice of Registration through email within one business day from the SSM. A unique registration number will be sent along with the Notice of Registration. If the application is queried, SSM will notify the applicant. If denied, they can edit and resubmit their application. 
What to Do After Company Incorporation in Malaysia
After successfully incorporating a company, the business owner must apply for necessary business permits or licenses before starting operations. The specific documents required may vary depending on the nature of business activities, industry, and/or business location. 
Additionally, business owners are required to open a corporate bank account and appoint auditors from a list approved by the SSM. They are also required to make annual reports to SSM. The Companies Act requires annual returns to be made within 30 days of the anniversary of incorporation. 
There are also other corporate compliance requirements related to income tax, Sales and Services Tax (SST), Employees Provident Fund (EPF), social security, and many others.
Want to Set Up a Company in Malaysia?
We have in-country business consultants in Malaysia ready to assist you, from reserving your company name to processing your post-incorporation requirements.