Recruitment Services Firm in Metro Manila, Philippines
K&C Recruitment has experienced Recruiters and Headhunters providing Recruitment and Talent Acquisition Services to startups, scaleups, and multinational companies in the Philippines in need of skilled local and foreign talent. Our Recruiters and Headhunters are experienced in sourcing and placing candidates for various positions in multiple industry sectors within and outside of Metro Manila.
Headquartered in Bonifacio Global City (BGC), we provide recruitment services within the country's major cities, from Metro Manila's premium cities of Makati, Quezon City, Ortigas Center, and Alabang to booming cities outside the Metro such as Cebu City, Iloilo City, Bacolod City, Subic Bay, Clark City, Santa Rosa (Laguna), and Davao City. We explore the availability of talent in each location as well as their average salary rates to help you provide a reasonable salary range based on industry standards. 
Our Recruitment Approach
Guided by your directives, our Recruitment team will construct ideal candidate profiles and identify individuals who can match your specifications and make a positive impact on your business. We will assess suitable candidates and benchmark them against high-performing and valuable employees to determine their potential for long-term success in your company.  
We always seek to develop a sustainable slate of candidates for rank-and-file, middle management, and specialized positions. Our Recruitment and Headhunting teams make use of multiple talent mapping channels, from online job portals, our internal recruitment database, and Boolean sourcing to offline methods like industry contacts and referrals to ensure the candidates we endorse to you have the necessary skill set and qualifications you need.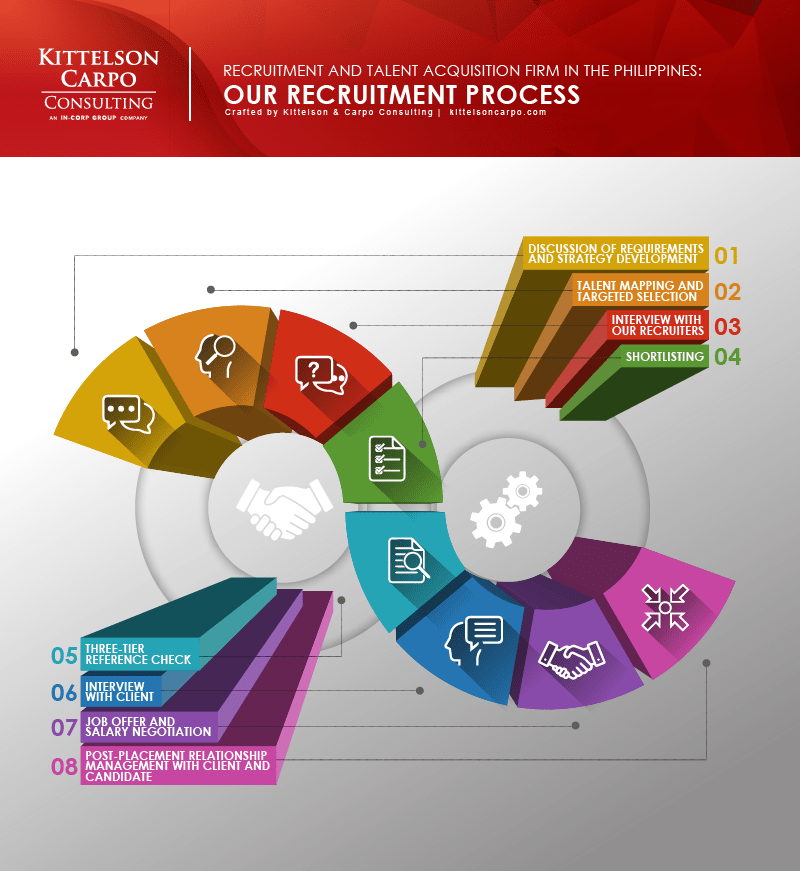 Why Engage with our Recruitment Services
Competitive Rates
Many recruitment firms in the Philippines charge as high as 25% of an employee's gross annual salary, and this rate is usually higher for specialized and hard-to-find positions in the industries of IT, Software Engineering, and Biotechnology. 
We are proud to state that we charge 18% of the gross annual salary for non-specialized roles and 20% of the same for specialized positions. Our rates fall within industry standards and we are compliant with local regulations on recruitment agency fees.    
Fast Turnaround Time
Our recruitment process can take anywhere between 25-40 business days, depending on your requirements, the complexity of the role/s, and availability of talent in the labor pool. Our wide industry networks and up-to-date methodologies enable us to identify and maintain contact with both active and passive candidates for future openings, ensuring a steady recruitment funnel to fill your vacancies.
Relationship Management
We ensure relationships both with clients and candidates are well-managed through transparency and consistent communication. We strive to provide a mutually beneficial support system for both parties, making the hiring process transparent and sincere as we can.     
Hiring the right person the first time is crucial to company success, and our clients trust our teams to develop effective strategies for attracting and retaining top talent for their most challenging roles. Similarly, our recruitment teams work closely with candidates to help them find the right opportunities and discover roles fit for their competencies and professional background.   
Expertise in Multiple Industries
We cater clients from multiple industries in the Philippines, with special focus on the booming industries of Information Technology (IT), Construction and Engineering, Business Process Outsourcing (BPO), Power and Energy, Healthcare and Medical Technology, and eCommerce.
We employ a team-per-function methodology to ensure each engagement is handled by a dedicated team of recruiters with necessary expertise on the industry as well as familiarity of the best avenues to locate top talent.   
Success-based Placement
We operate on a contingency recruitment agreement and only charge clients for successful placements. You can be 100% assured that we will not request for upfront payment before we successfully place candidates in your open vacancies.
Guarantee Period Clause
We provide a one-time free replacement of hired candidates not suitable for the position due to mismatch of skills/experience or underperformance/non-performance of job responsibilities. This free replacement policy is part of our 3-month guarantee period clause and only applicable within the first three months at work of the employee. 
We will require you to provide properly supported documentation and evaluation of the incompetence and unsuitability of the candidate for us to administer the free replacement.
Recruitment Services in the Philippines FAQs
What is the usual recruitment process in the Philippines?
The usual recruitment process in the Philippines involves six steps:
Discuss talent requirements
Source candidates
Recruiter interviews candidates
Shortlisting and background check
Endorse to client for interview
Onboarding
How long does the recruitment process in the Philippines usually take?
Depending on the complexity of the role and availability of talent in the job market, the recruitment process can last from 30-45 business days.
What are the recruitment processing requirements?
To avail recruitment services in the Philippines, you need to submit the following requirements:
Government Registration Certificates (SEC registration and business permits)
Company Details
Job Description (salary range, job responsibilities, and job qualifications).
Find the right candidates to add to your organization
We combine wide industry networks and advanced recruitment tools to help you acquire top talent in the Philippines.