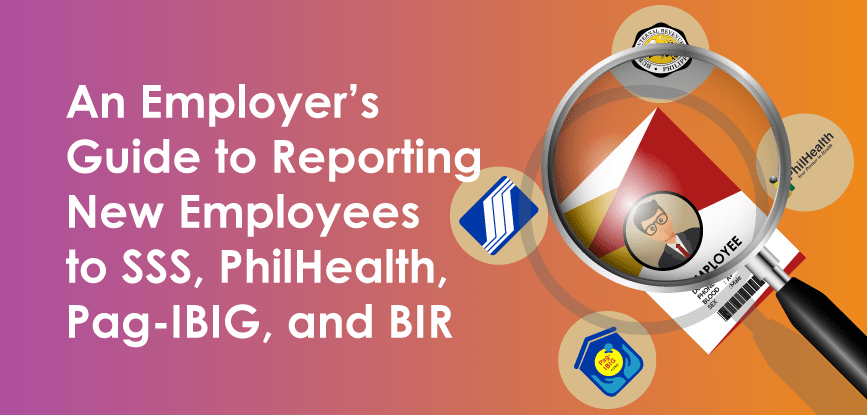 An Employer's Guide to Reporting New Employees to SSS, PhilHealth, Pag-IBIG, and BIR
In the Philippines, private businesses and employers are mandated by law to register their newly-hired employees to appropriate government agencies as part of their onboarding process. Such agencies are the Bureau of Internal Revenue (BIR), Social Security System (SSS), Philippine Health Insurance Corporation (PhilHealth), and Home Development Mutual Fund (HDMF or more commonly known as Pag-IBIG). 
This measure is to ensure that all employees working in the private sector can receive their benefits properly as provided by law. To help you comply with such requirements, this article will show you a step-by-step process to guide you through the entire employee registration process in the Philippines.  
The Importance of Registering New Employees in the Philippines
The main purpose of registering new and existing employees with such agencies is to ensure that employees pay their taxes to the government. This also allows them to receive their government-mandated benefits, as provided under the Philippine Labor Code. 
Additionally, new employee registrations allow you to record your workers' compensation as your company's deductible expense.
Step 1: Employee Registration with BIR
Before onboarding, new employees must provide their Tax Identification Number (TIN). For employees who do not have a TIN yet, they must fill out BIR Form 1902 and submit the accomplished form to the BIR Revenue District Office (RDO) where your business is located. 
Along with their TIN application, they must also submit a photocopy of the following documents:
Birth certificate or any valid ID showcasing the applicant's complete name, birth date, address, and signature

Marriage certificate (for married applicants)

Birth certificates of dependents, if applicable

Company ID or certificate of employment, if available
For new employees with existing TIN, they must submit BIR Form 2305 to the same RDO to update BIR of their new employer if their previous employer is within the same RDO. If their previous employer is located in a different RDO, the employee must submit BIR Form 1905 in the RDO of their former employer. 
Step 2: Registration with SSS
Republic Act (RA) No. 8282 states that all employees hired by a private company are required to be members of SSS. The member's monthly contributions are deducted based on their actual monthly salaries, 30% of which is deducted from the employee, and 70% is subsidized by the employer. 
These contributions can be availed through monetary assistance when the member is in need. Some situations include sickness and hospitalization, maternity, retirement, death, or any other incident that will result in a member's inability to produce his/her own income or any other financial difficulty.
If your new employee has no existing record with the SSS, you must require them to obtain an SSS number in the same branch where you registered as an employer. Employees who are existing SSS members must submit their SSS number to their employers.
Additionally, employers are required to fill up the SSS Form R1A which contains the list of new employees along with their respective SSS numbers. The form must then be submitted to the SSS office where your company is registered.
You may direct your new employees to obtain their SSS numbers online via the SSS website. You may also fulfill the SSS Form RA1 online. 
Step 3: Registration with PhilHealth
All employees are mandated to provide monthly contributions to PhilHealth as part of the government's health and hospitalization subsidies in the event that they or their dependents need medical assistance. Monthly contributions are deducted based on the employee's monthly compensation. 
New employees must fill out the PhilHealth Member Registration Form (PMRF) regardless if they are existing members of PhilHealth or not. The employer must then submit it to the PhilHealth office where the company is registered. 
Additionally, you will need to submit the ER2 Form containing a list of new employees.  You must submit this within thirty days from the hiring date of the new employee.
Step 4: Registration with HDMF or Pag-IBIG
Under RA No. 7835, employers are required to contribute to Pag-IBIG on behalf of their employees. Pag-IBIG is a government agency that provides housing and land acquisition loans to its members with the lowest interest rate in the market. These loans are payable for up to thirty (30) years.
New employees are required to register as a member of Pag-IBIG through their website or by accomplishing a Member's Data Form. The form must be submitted manually to their chosen Pag-IBIG branch. New employees must be registered with SSS to be eligible for registering with Pag-IBIG. 
After gathering the data, you will need to fill out a Membership Savings Remittance Form (MSRF) and file them with the monthly contributions to your company's Pag-IBIG branch or online via the Pag-IBIG website. 
Register Your Newly Hired Employees With Ease
As an employer, you must ensure that your newly-hired employees are properly registered with the said government agencies to comply with existing labor laws. Failure to comply may result in penalties from such agencies or revocation of business permits and/or licenses.
Employee registrations can be hectic and time-consuming. If you find such procedures exhaustive, it is best to reach out to talent and recruitment services to guide you through the registration process seamlessly.
Hire Your Next Candidate With Ease
Hiring new candidates can be an exhaustive process. With a vast pool of HR specialists, we are determined to help guide you through your employee registration processes through tailored solutions that best suit your company.