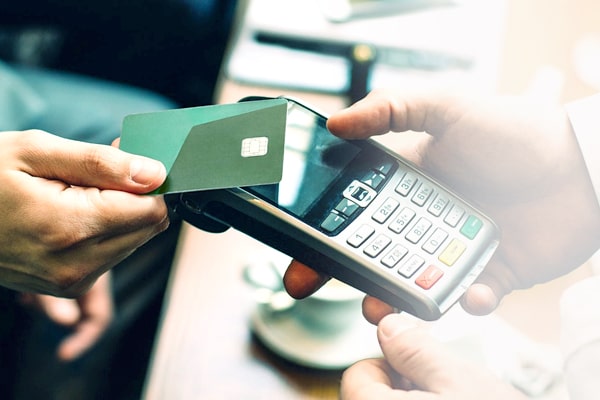 Our team of
EXPERTS AND PARALEGALS
can help you register your business in the Philippines
Setting Up A Fintech Company for Local and Foreign Enterprises in the Philippines
With its low capital requirements, pro-business regulations, low labor costs, a robust consumer market, and strategic regional location, the Philippines is considered by many as one of the most ideal investment hubs in Asia-Pacific. 
With a simplified approach to company incorporation, we provide end-to-end company incorporation assistance, from business registration, corporate compliance, to applications for relevant tax incentives, to local and foreign enterprises who wish to set up a fintech company in the Philippines. 
The Landscape of the Fintech Industry in the Philippines
The financial technology (Fintech) industry in the Philippines has been significantly increasing over the years, with business digitization becoming a norm due to the onslaught of the COVID-19 pandemic.
In the first half of 2021, the fintech industry in the Philippines has garnered over US$342 million, more than double the revenue received in the previous year. There are over 256 fintech companies in the Philippines, many of which classify as payments platforms to introduce a cashless system of monetary transactions in the country. Moreover, the Philippine fintech industry ranks 3rd in the ASEAN region, after Indonesia and Singapore. 
The public sector also placed numerous efforts and campaigns to promote digital payment platforms in the Philippines. The Bangko Sentral ng Pilipinas (BSP) recently released a Digital Payment Transformation Roadmap for 2020-2023, promoting the financial inclusion and digitization of payments in the country. 
Moreover, the Securities and Exchange Commission (SEC) recently launched the PhiliFintech Innovation Office (PIO), a new office under SEC's Corporate Governance and Finance Department (CGFD), that will regulate and further promote fintech in the Philippines. 
How to Register a Fintech Company in the Philippines
Local and foreign enterprises who wish to establish a fintech business in the Philippines must register with the appropriate government bodies, such as SEC and the Bangko Sentral ng Pilipinas (BSP), to be allowed to operate legally in the country. 
In the Philippines, there are several types of fintech companies that focus on providing specific services. Such are: 
Digital Payments & Mobile Wallets

Digital Remittance

Blockchain & Cryptocurrency

Alternative Finance

Payroll & HR
These services are among the most popular kinds of fintech companies operating in the Philippines. Depending on your business goals, SEC and BSP may require you to secure different documentation during your business registration process. 
BSP Registration for Fintech Companies
Although most businesses only require registration with SEC, the Philippines require fintech companies that engage in remittance, money-changing, foreign exchange, and virtual currency exchanges to register with BSP. 
To further supervise and regulate fintech companies in the Philippines, BSP created two special regulations: BSP Circular No. 942 and 944, including a specialized government unit the Financial Technology Sub-Sector (FTSS). 
BSP Circular No. 942 monitors fintech companies engaged in remittance, money-changing, or foreign exchange dealing. BSP Circular No. 944, on the other hand, governs the operations and reporting obligations of fintech companies that offer virtual currency exchanges or engage in activities that provide facilities for the conversion or exchanges of virtual currencies. Fintech companies that provide alternative financing, however, may be regulated under the Lending Company Regulation Act.  
Business Registration Process for Fintech Companies in the Philippines
We follow a simple 6-step process for business registration of fintech companies: 
Register your business name with the Securities and Exchange Commission (SEC) personally through their office or register online through SEC's Company Registration System (CRS) page

Prepare the necessary documents for submission to SEC

Articles of Incorporation and By-Laws

Treasurer's Affidavit

Acquire additional licensing from BSP to operate as a Fintech Company

Secure the following from the Local Government Unit (LGU) of your business address:

Barangay Clearance

Mayor's Permit (or Business Permit)

Business Permit to Operate from the Business Permits and Licensing Office (BPLO)

Process your corporate tax number with the Bureau of Internal Revenue

BIR Certificate of Registration

Certificate of Registration of Books of Accounts

Cash Register Machine (CRM), Point-of-Sale Machine (POS), or Authority to Print Receipts/Invoices (Manual Receipts)

Register as an employer with the following government agencies:

Social Security System (SSS)

Philippine Health Insurance Corporation (PhilHealth)

Home Development Mutual Fund (Pag-IBIG Fund)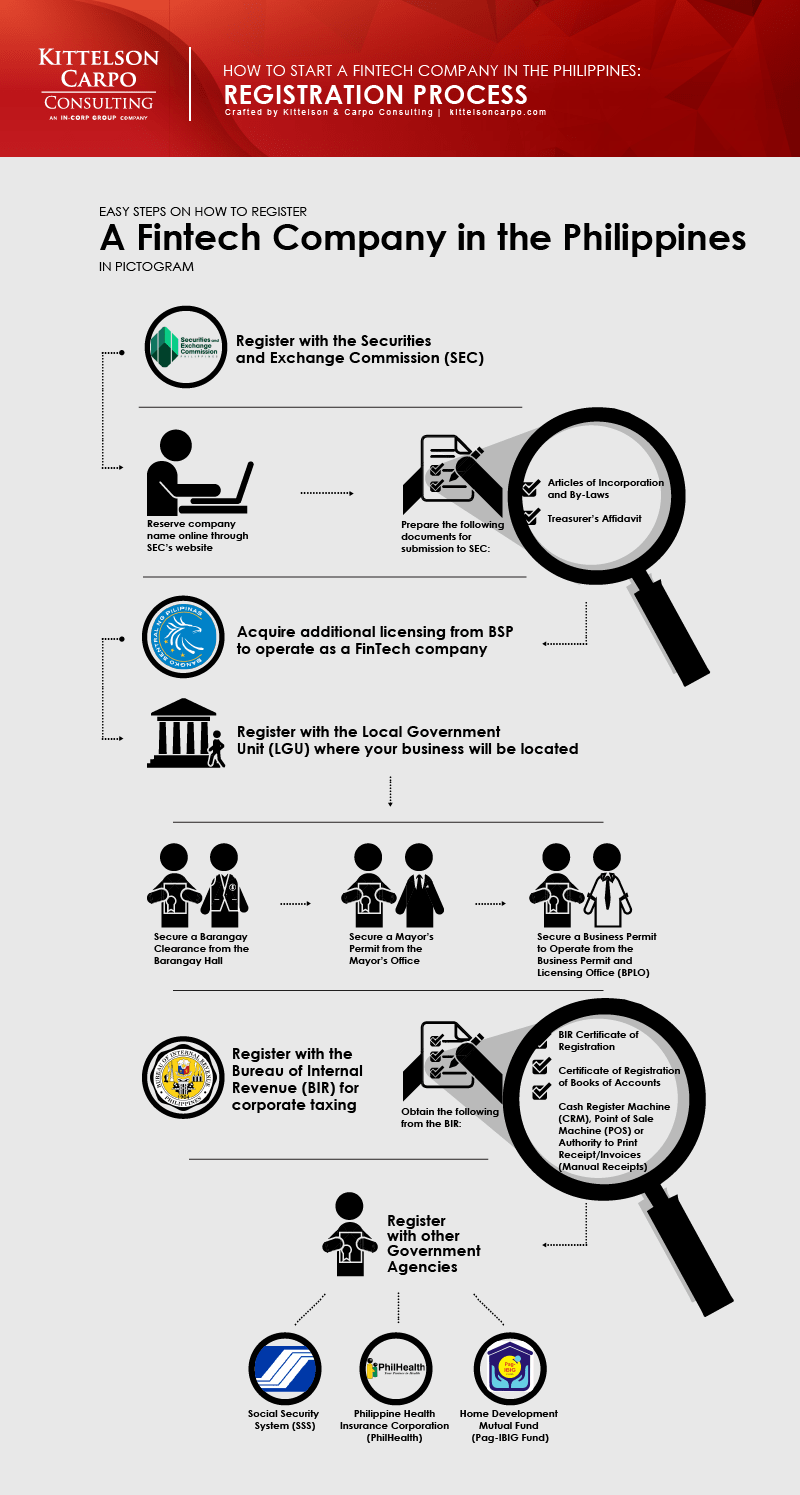 The business registration process in the Philippines usually takes around six weeks to three months, depending on how long it will take the government to process your application or on the available documents you have provided upon registration. 
Establish Your Next Fintech Company in the Philippines
With a robust and growing online consumer market and government regulations that help further fintech initiatives in the country, the Philippines is an ideal investment location for foreign enterprises who wish to engage in their fintech industry and penetrate the ASEAN fintech market.
Invest In A Growing Fintech Market In Asia-Pacific
With a simplified approach to business registration, our team is dedicated to helping you achieve a fast and easy incorporation process for your fintech company in the Philippines.