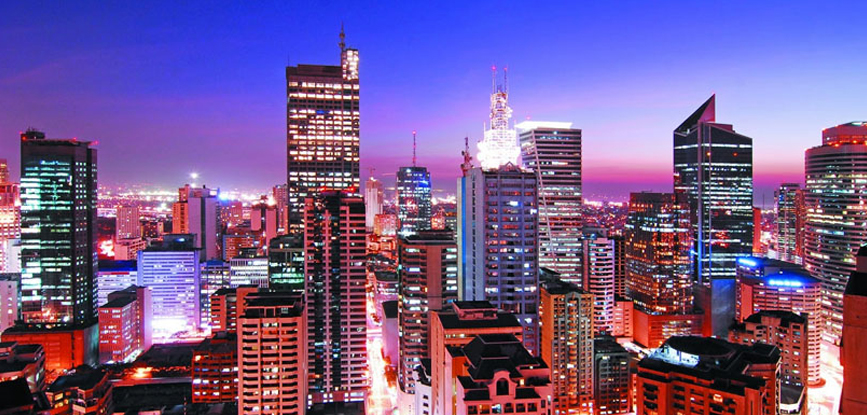 Makati versus BGC
The term 'location, location, location,' applies to where you decide to put your office. Metro Manila, the capital of the Philippines is home to several business districts: Makati, Bonifacio Global City, and Ortigas being the main hubs. Choosing a location is the most important factor when starting your business in the Philippines. Determining the best area for your organization is key for your employees alleviating them from the congestion of the entire city.
Makati or The Fort
Makati has been and still remains the principal central business district of the three. It has been described as Hong Kong of Manila, without the urban hills and ocean. Ayala Avenue is Makati's central road and has been dubbed the 'Wall Street' of the Philippines.
Makati is more eclectic as it has a vibrant array of classes both residing and working in the city. Food is more affordable since it has its 'jolly jeeps' across the streets; these are the local food carts that serve a full meal for about a dollar or so. Makati is also a central transportation hub making it very accessible for any employee working at normal and odd hours to come in and out of the city.
Makati is the 16th-largest city in the country and has a population of 510,383 residents with about 7,200 residents per square mile or 19,336 inhabitants per square kilometer and is estimated to be more than one million during a typical working day because of the large influx of people coming into the city to work and do business.
Bonifacio Global City (BGC) or more commonly known as The Fort, has developed dramatically over the past few years featuring state-of-the-art and eco-friendly residential and office buildings. It's planned infrastructure has larger open spaces and cables that run underground keeping the city less unkempt. If Makati can be described as the Hong Kong of Metro-Manila; BGC can be compared to Singapore without the water surrounding the city. BGC has PEZA-certified buildings and project a prestigious location factor.
Though BGC, may be harder to get to from the other city districts across Metro Manila, traveling within BGC is fairly easy and accessible as it has buses that run 24-hours a day strategically stationed all throughout the city. As for the food, the majority of the local and international fast food restaurants are usually preferred. The majority of the buildings also have canteens where home-cooked full meals are prepared and are a bit more expensive than the jolly jeeps that you can find in Makati.
Taguig City where BGC is located, boasts a total of 613,343 residents per square mile. The majority of the BGC market consists of people that both live and work in BGC. Predominantly, they are composed of foreign expatriates, the local upper-middle class, and international students. All of them drawn by the appeal of BGC's orderly community and vibrant nightlife as well as the easy access to Makati. Both districts have a massive influx of daily activity and would be the top contenders when opening your business in the Philippines.
Infrastructure
There is a boom in infrastructure for both Makati and BGC. Makati is more established having been more sustainable for a longer period of time while BGC's development started a little more than 10 years ago and has grown exponentially since. In Makati, there are still new buildings coming up but not quite as rampant as BGC.
Between the two, Makati is consistently being refurbished by modernizing the older buildings while in BGC, it starts from the ground up as there are more areas and places to build.
Makati has never quite lost its bustle and still bears the old buildings that are midrise which are generally favored by older Filipino establishments such as the major local banks and other institutions. However, Makati is also home to the tallest building in Metro Manila, with 71-floors, The Gramercy building by Makati Avenue is less than two-years old and quite technologically-advanced than the others. Flooding still happens in certain areas of Makati but not in the central business district.
BGC or The Fort, as it was once known, was a military base that was revived as a new city for Taguig. The younger businesses, and international conglomerates have moved to BGC. It is a vibrant area full of expats and younger people, and is 50% built giving the consumers and business alike more options. The city is laid out as a grid, it is easy to get around, and the buildings are very well marked. There is no flooding during the typhoon season as it has an underwater collection facility that filters the water from the streets. It is still frustrating due to the surrounding areas that do flood and therefore create a bottle necks in and out of the city.
When it comes to incorporation of your business as well as your business permits, Taguig has a smoother and better transaction while Makati has more hoops to jump through.
Office Buildings
A great number of local and foreign businesses position their headquarters in Makati making it the international, commercial and financial center. At least 57 of the Philippines top 1,000 corporations are found in Makati and 84% of the country's private commercial banks. Makati also has 46 of the 56 embassies and consultancies located here.
BGC offers newer and more modern commercial office buildings to locate your business in. More and more multinational corporations are establishing their headquarters in BGC. In 2003, The Ayala Corporation through Ayala Land, Inc., and Evergreen Holdings, Inc. of the Campos Group purchased a controlling stake in BLDC from Metro Pacific and is now in control of the planning in Bonifacio Global City.
Telecommunications
Telecommunications is run by several conglomerates and not everyone offers the same services. PLDT, Globe and Smart provide landline, mobile and internet communications while Sky Cable offers cable TV and internet connection. PLDT and Globe have their own mobile subsidiary partnerships making it easier and economica.
The majority of Makati has been owned and developed by the Ayala Corporation. Ayala also owns Globe therefore the mobile service around Makati and it's surrounding districts are quite efficient. Globe's landline and mobile connection are constant, however, their internet connection is inconsistent and does not usually go above 8 mbps.
While Globe is more popular in the Makati area; PLDT is still the oldest and most reliable telecommunications company. When it comes to the internet, their average DSL mbps ranges from 5-10 mbps and an average of 8-20 mbps granted your building or area is fibre-optics enabled. Sky Cable is mostly used in residential buildings, villages and the like as it provides cable TV and internet however their speed ranges from 2-5 mbps which can be quite disconcerting.
Since BGC has had a rapid influx in development, their buildings are more technically-advanced and are already fibre-optics ready making it easier and more convenient to switch your connection from DSL to fibre optics. PLDT's fibre optics ranges from 8-80 mbps around the BGC area and heavily concentrated in office buildings. The residential buildings are able to migrate from DSL to fibre-optics much easier than the older buildings in Makati.
When it comes to mobile service, both Globe and Smart are very strong and consistent. Globe is a bit notorious for having poor customer service while Smart is a better provider when it comes to regional settings.
Transportation
Based on the City's Transport and Traffic Improvement Plan 2004-2014, Makati's daytime population is estimated to be about 3.7 million during weekdays, majority of that owed to a large number of people who come into the city to work and do business. However, due to the large influx, it exerts pressure on Makati's environment, services, and utilities, most noticeably causing large traffic volumes along the major roads and side streets.
There are different ways to get in and around the city, all fairly accessible within the stretch of the main road of Ayala Avenue which is a main transportation hub. Taxis, jeeps, SUVs and buses are everyday alternatives offered to the daily commuter and stop within walking distance and run twenty-four hours a day, seven days a week.
BGC has seven (7) major access points: access from the North and West through Kalayaan Avenue which connects to the Kalayaan Flyover, or what is better interpreted as the 'back' of the BGC area, where the schools are located. Access from the West via EDSA through McKinley Road and the three entrances from C-5 highway in the East where Market Market and SM Aura Malls are; and from the airport through the Villamor Airbase to the south by Fifth Avenue. There are buses, shuttles and jeeps that go through C5 and McKinley Road and that stop on Edsa as well connecting to the MRT. The Metro Rail Transit (MRT-3) on EDSA has three stations located in Makati: Guadalupe, Buendia and Ayala. However, due to the large open spaces, BGC is a bit harder to get around as it is not as easily accessible by foot and you usually have to take another mode of transportation like the BGC bus that stops in various points all around BGC.
Traffic
Traffic in and around Metro Manila can be overwhelming and frustrating, most especially during the peak hours of 8:00 AM – 10:00 AM and again from 5:00 PM – 8:00 PM. These are all of the people coming and going in and out of Makati City for work. Traffic is handled by way of a color coding scheme that runs all day in Makati City, and the rest of the metro. Depending on the day, the end number of your license plate is not allowed from 7:00 AM – 7:00 PM. There are window hours in some areas, but those vary from city to city.
BGC does not have that same color coding scheme however due to the sheer number of vehicles on its roads and increasing traffic, there is talk of this implementation in the coming year.
Whether you choose your business to be placed in Makati's central business district or BGC; InCorp Philippines will provide you with the assistance and know-how on how to do business in the Philippines.