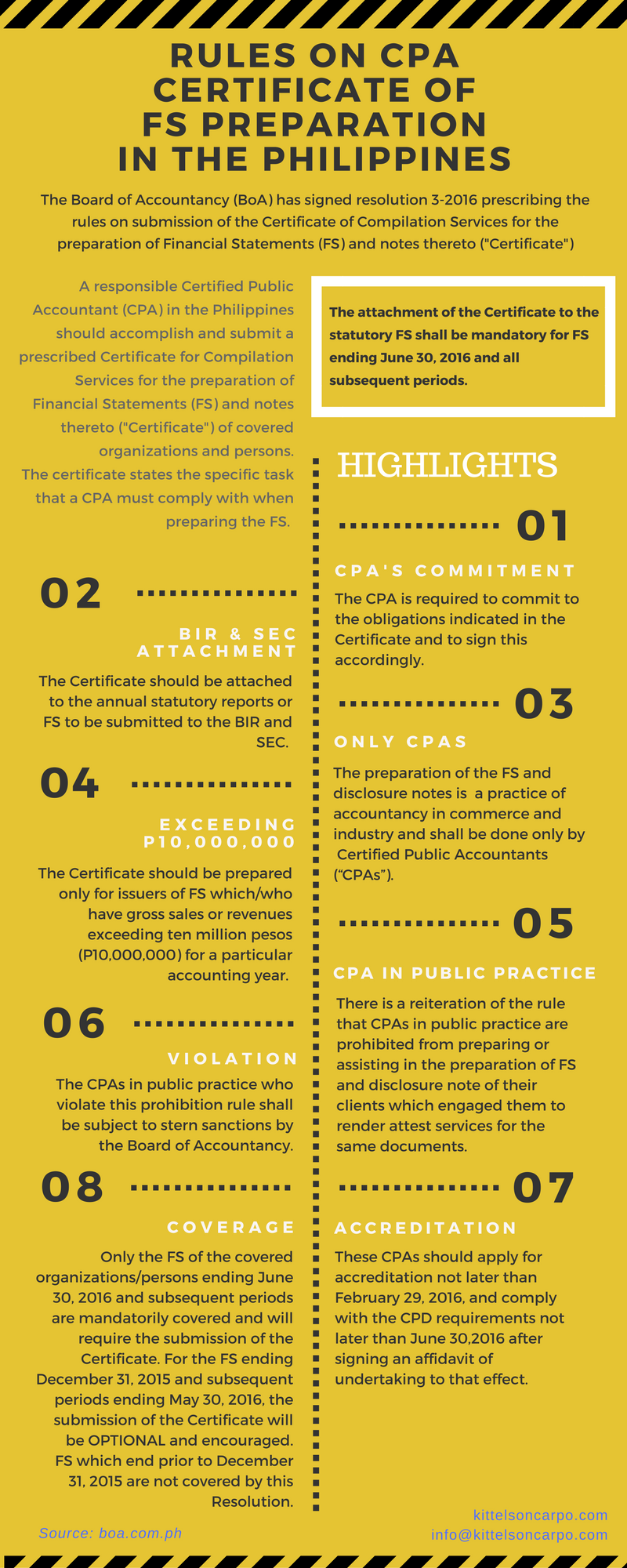 Rules on CPA Certificate of FS Preparation in the Philippines
The Board of Accountancy (BoA) has signed resolution 3-2016 prescribing the rules on submission of the Certificate of Compilation Services for the preparation of Financial Statements (FS) and notes thereto ("Certificate")
A responsible Certified Public Accountant (CPA) in the Philippines should accomplish and submit a prescribed Certificate for Compilation Services for the preparation of Financial Statements (FS) and notes thereto ("Certificate") of covered organizations and persons. The certificate states the specific task that a CPA must comply with when preparing the FS.
The attachment of the Certificate to the statutory FS shall be mandatory for FS ending June 30, 2016 and all subsequent periods.
Highlight
1. CPA's Commitment
The CPA is required to commit to the obligations indicated in the Certificate and to sign this accordingly.
2. BIR & SEC Attachment
The Certificate should be attached to the annual statutory reports or FS to be submitted to the BIR and SEC
3. Only CPAs
The preparation of the FS and disclosure notes is a practice of accountancy in commerce and industry shall be done only by Certified Public Accountants ("CPAs")
4. Exceeding P10,000,000
The Certificate should be prepared only for issuers of FS which/who have gross sales or revenues exceeding ten million pesos (P10,000,000) for a particular accounting year.
5. CPA in Public Practice
There is a reiteration of the rule that CPAs in public practice are prohibited from preparing or assisting in the preparation of FS and disclosure note of their clients which engaged them to render attest services for the same documents.
6. Violation
The CPAs in public practice who violate this prohibition rule shall be subject to stern sanctions by the Board of Accountancy
7. Accreditation
These CPAs should apply for accreditation not later than February 29, 2016, and comply with the CPD requirements not later than June 30, 2016 after signing an affidavit of undertaking to that effect.
8. Coverage
Only the FS of the covered organizations/persons ending June 30, 2016 and subsequent periods are mandatorily covered and will require the submission of the Certificate. For then FS ending December 31, 2015 and subsequent periods ending in May 30, 2016