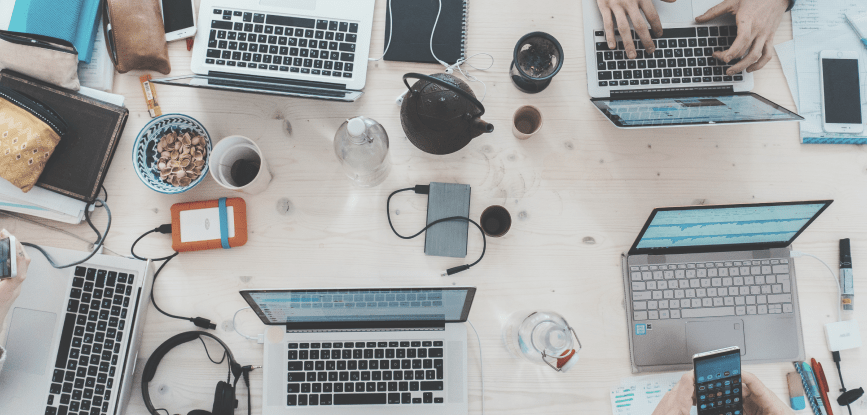 6 Effective Ways to Boost Digital Presence for Your Business in 2022
Over the past years, companies have been shifting from traditional to online platforms to help their business grow and keep up with digitization. This enables businesses to expand their audience, increase company revenue, and improve industry connections. 
Transcending into the digital world provides numerous benefits for your company as the world implements a new way of working as we enter a post-pandemic era. To help you, this article will show you several tips on how you can increase your online presence in 2021. 
#1: Improving Your Company Website
The first step to gaining a digital presence is ensuring that your company has a website that caters to your clients properly. Upgrading your website to become more user-friendly and aesthetically pleasing allows your customers to navigate through your website easily. 
You can upgrade your website by doing the following:
Keep your home page simple. Maintaining a clean and straightforward homepage allows customers to absorb the information much easier. Additionally, offering fewer products on your home page has a higher probability of increasing your sales than laying out everything.
Include media on your key conversion pages.

 Adding videos and other forms of media on your top landing pages can increase your conversion rates by

86%

. 

Explain your value proposition clearly.

A

value proposition

is a one or two-sentence promoting the value and benefits of your products and services. This should clearly state: how your products solve a customer's problem, what benefits your products provide, and why customers should purchase your products instead of competitors. 

Be creative with capturing email addresses.

Email marketing is still one of the most effective ways to produce a return on investment (ROI). Creating a way to capture your visitor's email addresses allows you to invite them back to your website through email marketing campaigns. 
Your company website is the gateway to increasing customer engagement. Maintaining your website and upgrading it to current digital standards will place your company ahead of its competitors.

#2: Utilize SEO Practices
Search Engine Optimization (SEO) is one of the many tools extensively used to boost your company's online presence. SEO is the process of improving your website to make it more visible to relevant searches. 
SEO works by optimizing your website for bots from search engines, such as Google or Bing, to collect information from your webpage and include them in their database. This information is then compiled and showed to users who search for keywords that could match the information on your website. 
There are ways to incorporate SEO practices into your website. Such as:
Choosing the right URL

Creating titles and descriptions for each page

Utilizing anchor text

Including alt text to all your images

Giving your site structure with proper headers
Utilizing SEO aspects into your content will help your company boost your online presence. You can also optimize your website for local searches to increase online traffic to your business within your location. 
#3: Produce Quality Content
There is more to content creation than producing a large amount of content for your audience to consume. Part of it is ensuring that the quality of your content is up to industry standards to gather traffic to your website. 
The content may vary from blogs, guides, infographics, video content, newsletters, etc. Creating high-quality content is also important in terms of SEO practices. The better the quality, the bigger the chance of your content ranking high in search engines. 
High ranking content would mean that your write-ups are the first thing suggested by search engines to audiences searching for particular services or products. Additionally, producing high-quality content increases your company's credibility, boosting your image to suppliers, investors, competitors, and clients. 
#4: Stay Connected With Clients
Constantly keep your existing clients updated with your latest business activities. Introducing new products and services, advertising business events, or simply sharing content from your company can go a long way. 
Take advantage of email marketing tools such as e-blasts and newsletters when engaging with existing clients as it is the most direct way to inform them about company activities. Doing so makes your business more accessible to your clients. 
#5: Share Your Content Through Industry Partners
Having your partners share your content on their website is another way to increase your company's digital presence. Doing so enables your business to tap into a larger market. You can reach out to industry partners to ask them to share your content on their website in exchange for doing the same for them. 
Other than sharing pre-made content, you can also ask them to:
Include your website in anchor links when creating content

Share your business events and activities as one of their partners

Refer your business to several clients in need of specific services
Offering to share content in exchange for sharing your own can help strengthen your relationship with industry partners. This also helps your business reach audiences beyond your market. 
#6: Utilize Social Media Platforms
Having a presence on social media platforms such as Facebook, Instagram, and Twitter gives your business a chance to engage with your customers more efficiently. As of July 2021, there are over 4.48 billion people who actively use varying social media platforms. Taking advantage of social media opens your business to a wide range of potential clients. 
You can utilize social media platforms by:
Regularly posting and sharing content 

Working with reputable partners or industry professionals

Running ads for ideal audiences

Taking advantage of paid advertising 

Creating engagement posts for clients 
You can incorporate social media as part of business operations and advertising to fully utilize its potential in gathering potential customers while maintaining existing relationships with partners and existing clients. 
Increase Your Business' Digital Presence in 2023
Today, it is essential to stay connected with partners and clients and be easily accessible to external entities interested in what your business can offer. Ensuring that your business gains a digital presence not only makes you accessible but also enables your business to be versatile when it comes to doing business.
Realigning your business strategies to boost your online presence can be challenging. If you find these procedures exhaustive, you can reach out to business consulting firms to guide you through different business and marketing strategies to establish your business online.
Boost Your Digital Presence for Your Business
With up-to-date marketing strategies and tailored business solutions, our team is dedicated to guiding you through the process of increasing your company's online presence.