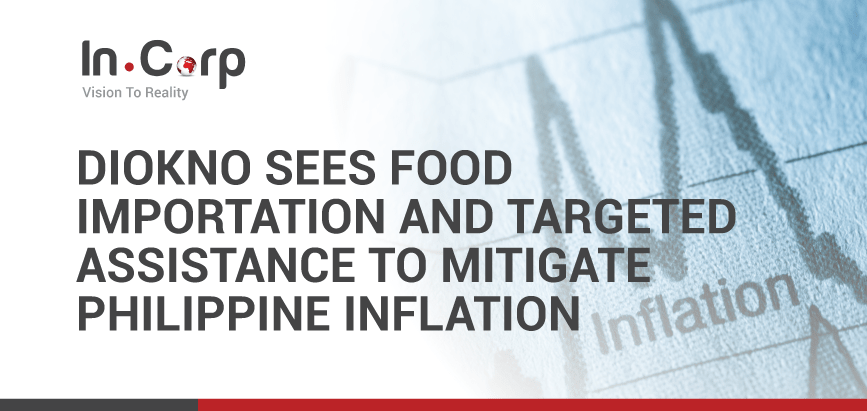 Diokno Sees Food Importation and Targeted Assistance to Mitigate Philippine Inflation
Finance Secretary Benjamin Diokno foresees food importation as a way to increase supply and targeted assistance to the most affected sectors, which ease high global inflation overflowing to the Philippines.
Diokno stated. "We have a comprehensive set of interventions to effectively balance the need to sustain growth momentum while containing inflationary pressures and their cascading effects on the economy."
Despite not being part of the G20 meeting of finance ministers and central bank governors, Indonesia has invited Diokno as a guest to represent the Philippines in the said meeting.
To keep the food prices within reach, Diokno noted that the government wanted to increase the country's agricultural output while sustaining the importation of certain goods like corn, pork, and rice, at lower tax under Executive Order (EO) No. 171 crafted by the previous administration. The order's effectivity is only active until the end of this year.
In addition, Diokno mentioned, "targeted subsidies have been allocated to cushion the impact of rising fuel prices on the public transport sector."
For this year the previous administration had set aside,
a total of ₱47.5 billion in financial assistance to those most affected by the surging fuel prices; ₱41.4 billion in unconditional cash transfers to half of the poverty-stricken population;
₱5 billion in fuel subsidies for drivers and operators of public utility vehicles (PUVs); and
₱1.1 billion fuel discounts to farmers and fisherfolk.
Diokno mentioned that up to now, the Department of Budget and Management (DBM) has already released ₱16.7 billion worth of assistance, funded by the windfall from the incremental import duties and taxes collected from costly fuel. However, as the economy is expected to recover by the middle of this year fully, these subsidies will no longer be given next year.
Diokno expressed at the G20 meeting, "the Bangko Sentral ng Pilipinas (BSP) has been decisive in undertaking the necessary monetary policy actions to arrest the rise of inflation," indicating the string of interest rate hikes, including the off-cycle 75-basis point (bp) increase in the bank loan policy rate to 3.25%.
He continued, "With these policy instruments and a medium-term fiscal framework in hand, we are confident that the pains brought by ongoing shocks will be short and our recovery will remain robust."
Furthermore, "The government's medium-term fiscal framework is aimed at reducing the budget deficit, promoting fiscal sustainability, and enabling robust economic growth."
Diokno noted that the current administration would be presenting near-term and medium-term strategic plans for socio-economic development in the first State of the Nation Address (SONA).