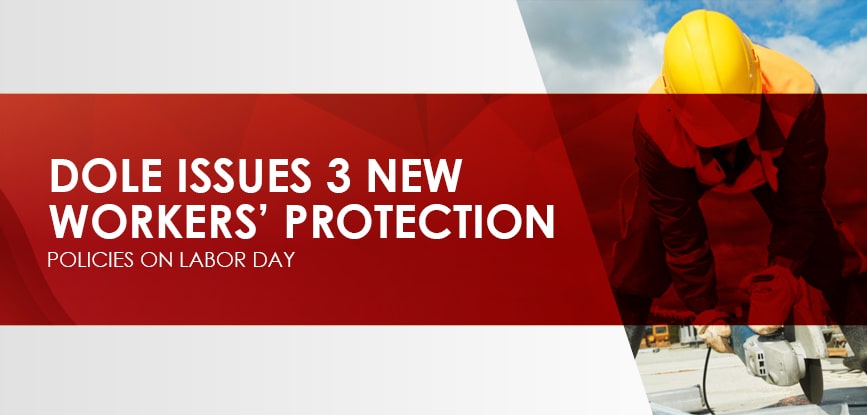 DOLE Issues 3 New Workers' Protection Policies on Labor Day
The Department of Labor and Employment (DOLE) issued three new labor policies on Wednesday during the government's Labor Day celebration in Pampanga. The new policies seek to ensure the protection and welfare of Filipino workers here and abroad.
DOLE Secretary Silvestre Bello III, together with concerned agencies and stakeholders, signed the joint guidelines of DOLE, Department of Justice (DOJ), and the Bureau of Immigration (BI) on the issuance of Work and Employment Permits to foreign nationals seeking employment in the Philippines; the Implementing Rules and Regulations (IRR) for Republic Act (RA) No. 11210 or the Expanded Maternity Leave Law; and the Memorandum of Agreement (MOA) and Certification for returning OFWs.
DOLE, DOJ, and BI's Joint Guidelines on SWP Issuance
Under the new joint guidelines, only foreign nationals in 14 occupation groups will be permitted to avail a Special Work Permit (SWP). The "white list" containing the specific occupation groups include the following:
Professionals, consultants, and specialists

Foreign journalists

Trainees assigned in government institutions

Researchers, trainers, and others pursuing academic work

Culinary specialists and chefs

Professional athletes, coaches, trainers, and assistants

International performers with exceptional activities

Artists, performers, and their staff

Religious missionaries and preachers
The joint guidelines states that an SWP shall be issued by the BI to foreign nationals who intend to work, engage in specific activities or render services outside of an employment arrangement for a maximum period of six months, which shall be non-renewable.
Secretary Bello said that foreigners with occupations not included in the white list, such as construction workers, carpenters, janitors, and other blue-collar jobs, will no longer be allowed to apply for an SWP. 
The joint guidelines was issued to "harmonize" inter-agency cooperation in the issuance of SWPs and discourage the increase of foreigners working in construction sites, retail establishments, and other technical jobs that can be filled by Filipino workers. 
IRR for Expanded Maternity Leave Law
DOLE also signed on Wednesday the IRR for RA No. 11210 or the Expanded Maternity Leave (EML) Law, the new law that extends the paid maternity leave from 60 days to 105 days, with an option to extend for an additional 30 days of unpaid leave.
The IRR states that the 105-leave benefit provided by RA 11210 can be availed by women working in the government, private sector, and informal economy, regardless of their civil status or legitimacy of the child. It can also be availed by voluntary contributors of the Social Security System (SSS) and female national athletes.
The IRR allows a female worker to allocate a maximum of seven days of said benefits to the child's father, whether or not the mother and father are married.
Those found violating the EML Law's provisions will be fined for a minimum of Php 20,000 to a maximum of Php 200,000 and imprisoned for not less than six years and one day or more than 12 years, or both.
Assessment and Certification for Returning OFWs
The Overseas Workers Welfare Administration (OWWA) and the Technical Education and Skills Development Authority (TESDA) also finalized on Labor Day a Memorandum of Agreement (MOA) for the certification of returning OFWs.
The five-page MOA states that OWWA and TESDA will collaborate in a partnership venture to strengthen TESDA's goal in providing skills training and technical education to returning OFWs as well as enable OWWA in providing livelihood training and programs for the reintegration of OFWs and their families after their return in the Philippines. 
The MOA will be valid for two years, subject to renewal by the two agencies.