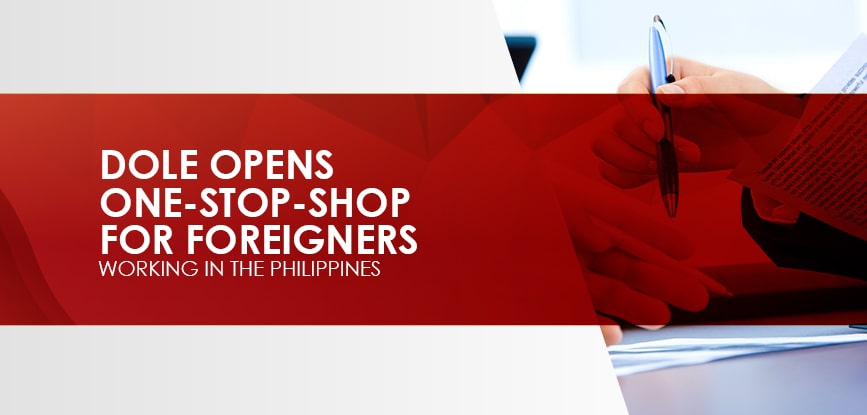 DOLE Opens One-Stop-Shop for Foreigners Working in the Philippines
Foreign nationals working in the Philippines may now anticipate a faster application process for Alien Employment Permit (AEP) through a newly launched one-stop-shop by the Department of Labor and Employment (DOLE) in Manila.
DOLE officially launched its one-stop-shop service center, early last week located at the ground floor of the DOLE NCR building in Malate, Manila to directly address the influx in foreign employment permit applications.
During the first half of 2019, a total of 51,696 AEPs have been issued to foreign nationals in the country, a significant increase from the 21,320 AEPS released last year.
In a statement made during the launch, Labor Secretary Silvestre Bello III assured future applicants of the convenience and fast processing of the permit applications. 
Applicants may now also visit and transact with the Bureau of Internal Revenue (BIR), Professional Regulation Commission (PRC), and Bureau of Immigration (BI) service counters for the issuance of Tax Identification Number (TIN) and Special Temporary Permit (STP).
"Similar one-stop-shops will be established in other [AEP] application-rich areas such as the Cagayan region, Central Luzon, Calabarzon, Central Visayas and Davao region," Labor Secretary Bello added.
In support, DOLE NCR Regional Director Atty. Sarah Buena Mirasol shared that the agency plans to directly tackle the influx of AEP applications through the use of additional equipment and human resources in their department.
The Regional Director also added that, in the near future, DOLE intends to fully-develop and launch a specially catered AEP application tracker online system.
Along with several government agencies, DOLE issued this year the Joint Guidelines on the Issuance of Work and Employment Permits to Foreign Nationals and the Rules and Procedures Governing Foreign Nationals Intending to Work in the Philippines. The purpose of this is to set firmer measures on the entry of foreign nationals who want to work, perform specific activities, or render services in the Philippines. These guidelines govern the issuance of permits or licenses to foreigners in the country.