DTI Positions the Philippines as Investment Destination Amid US-EU Trade Spat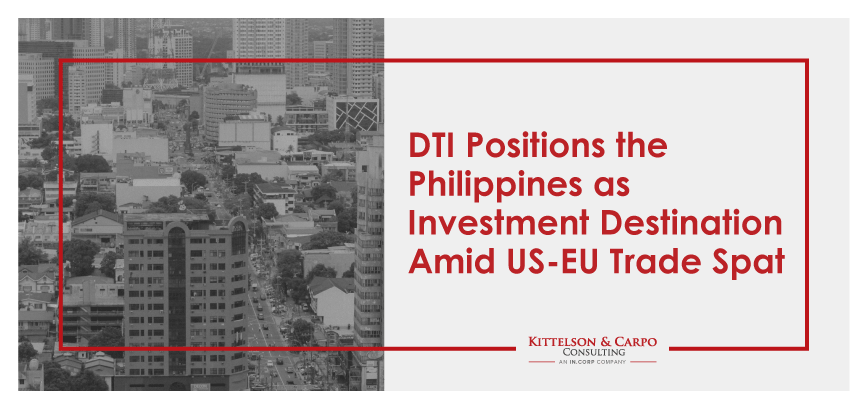 The Department of Trade and Industry (DTI) places the Philippines as an investment destination amid the growing tension between the United States (US) and the European Union (EU) by leveraging their tariff perks in both economies.
DTI's Exports Marketing Bureau (DTI-EMB) states that the Philippines can gain opportunities in both economies as it can export at reduced tariffs under the US Generalized System of Preferences (GSP) and the EU Generalized Scheme of Preferences Plus (GSP+). 
The World Trade Organization (WTO) gave the EU permission to impose tariffs on $4 billion worth of US products each year, retaliating against US subsidies to aircraft maker Boeing Corporation. 
DTI expressed that, "Certain lines of handbags are covered under the EU GSP+ which the Philippines is a beneficiary of. This makes the Philippines an attractive location for exporting to the EU of these products."
According to DTI-EMB Director Senen M. Perlada, US manufacturing companies will be increasingly encouraged to relocate to the Philippines. 
Perlada continued, "In fact, that's happening, and it's happened now. US brands like the Coach bags, and that's going into the EU, and the reason why is precisely because of the EU GSP+."
The Board of Investments (BOI) recently disclosed fourteen leads on businesses that could potentially relocate to the Philippines. 
However, continued Philippine export perks to the EU became uncertain after the European Parliament appealed for the European Commission to remove the country's GSP+ access due to human rights concerns. The Philippines is allowed to continue exports with reduced duties under GSP+ as long as it follows a set of international human rights conventions.  
Countries that have EU GSP+ benefits include Armenia, Bolivia, Cape Verde, Kyrgyzstan, Mongolia, Pakistan, and Sri Lanka.