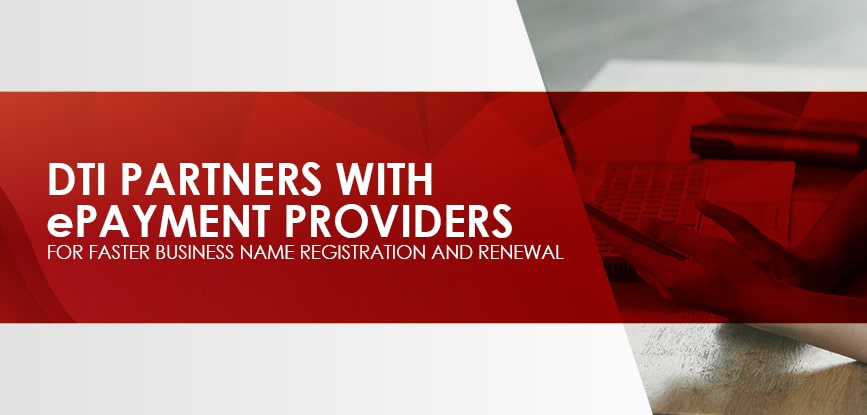 DTI Partners with ePayment Providers for Faster Business Name Registration and Renewal
The Department of Trade and Industry (DTI) recently partnered with leading digital financial service providers to provide Filipinos with a more accessible and convenient way of registering and renewing business names in the government through ePayment providers available online. 
Along with the official launch of DTI's new Business Name Registration System Next Generation (BNRS Next Gen), an online platform where the public could register or renew business names, DTI Secretary Ramon Lopez signed three Memoranda of Agreement (MOAs) with the ePayment platforms Gcash, PayMaya, and LinkBiz. 
Sole proprietors and entrepreneurs who wish to apply or renew their business names will no longer need to go to DTI business centers and can instead use the partner ePayment platforms to transact online conveniently in three easy steps: "Apply. Pay. Download." 
"Long queues, inefficient, and slow services in government will soon be a thing of the past. Our agreement with ePayment platforms completes our Business Name Registration System as we are now able to provide our citizens the convenience of having to transact with DTI through their mobile phones at the comfort of their homes, or wherever they are, 24/7," said DTI Secretary Ramon Lopez.
"We are proud to be pioneering e-government by being one of the first to provide the public the experience of end-to-end registration and making available various online payment options such as e-wallet, online banking, or credit/debit cards. Automation is key to good governance. Through automation, we will provide easier, faster, and better service," said the DTI Secretary.
The new system and partnerships mark the technical advancement of DTI's online business registration service and offer users a more convenient, transparent, and seamless experience. 
This initiative is in accordance with the major reforms mandated by Republic Act No. 11032 or the Ease of Doing Business and Efficient Government Service Delivery Act of 2018 signed last year. It provides that "all government agencies shall develop electronic versions of licenses, clearances, permits, certifications or authorizations with the same level of authority as that of the signed hard copy, which may be printed by the applicants or requesting parties in the convenience of their offices."