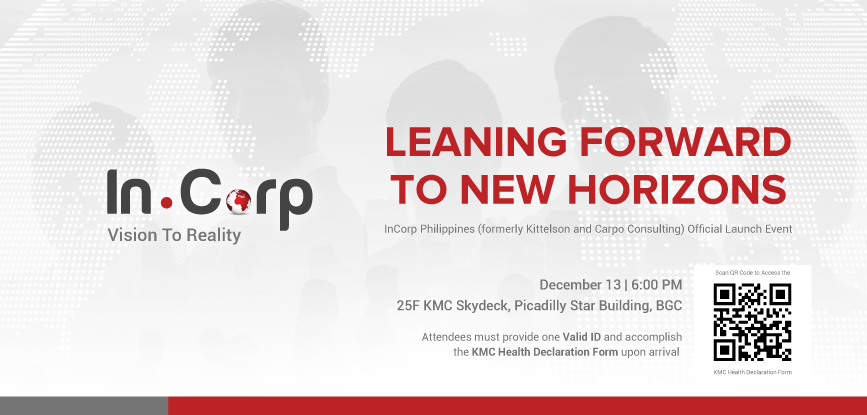 Leaning Forward to New Horizons: InCorp Philippines Launch Event
On December 13, 2021, InCorp Philippines (formerly Kittelson and Carpo Consulting) held an event officially welcoming its brand transition from its former name, unifying its presence with its parent company, InCorp Global.
The event featured InCorp Philippines Country Head Amanda Carpo and Kittleson and Carpo Consulting Former Managing Director Gregory Kittelson as they talk about their experiences in building InCorp Philippines to what it is today.
The event, Leaning Forward into New Horizons: InCorp Philippines Official Launch, took place at KMC Skydeck and Bar, Piccadilly Star Building in Bonifacio Global City, Taguig.
The launch was a gateway to introduce a stronger and more streamlined way of assisting local and foreign enterprises to do business in the Philippines, as well as within the Asia-Pacific region.
Leading industry partners and guests were invited to the company's official branding transition from Kittelson and Carpo Consulting to InCorp Philippines.
Partners from KMC Solutions, the Nordic Chamber of Commerce Philippines (NordCham), the German-Philippine Chamber of Commerce and Industry (GPCCI), and the European Chamber of Commerce Philippines (ECCP) President Lars Wittig also attended the event.