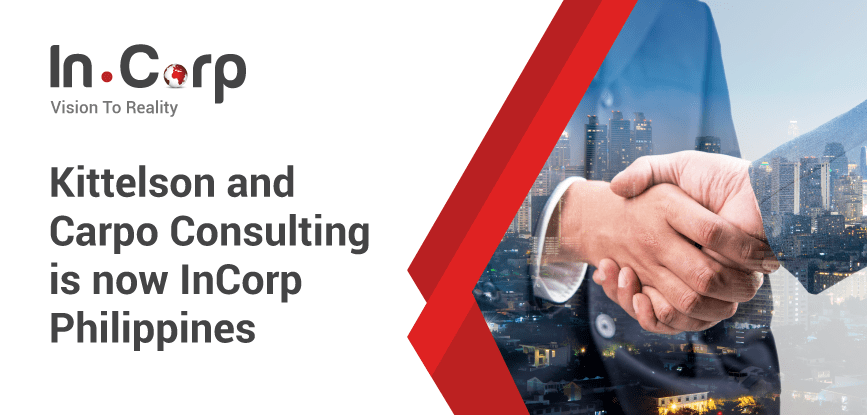 Kittelson and Carpo Consulting is now InCorp Philippines
Starting November 8, 2021, Kittelson and Carpo Consulting proudly announce that we will be continuing our service to our esteemed clients as InCorp Philippines. 
After 14 years of providing end-to-end corporate assistance to local and foreign enterprises in the Philippines, Kittelson & Carpo Consulting Inc. will officially change its name to In.Corp Corporate Services Philippines, Inc., unifying its presence with its parent company, the InCorp Group. 
We are excited to provide a better and more seamless way of doing business in the Philippines and across the Asia-Pacific region. Unifying with InCorp Group allows us to expand our reach to extensive and highly competitive markets, connecting our clients with solid and fast-growing economies in Asia-Pacific. 
Doing Business Beyond Borders
In 2017, Kittelson and Carpo Consulting was acquired by InCorp. The acquisition enabled us to provide better and more streamlined corporate solutions to enterprises doing business in the Philippines and expanding to the Asia-Pacific region.
"We met Kittelson and Carpo Consulting one year after InCorp was formed. During our first meeting, we realized that what they had set out to achieve and what our vision was were absolutely similar. On one hand, you have Singapore as a gateway to Asia-Pacific, and on the other, you have one of the fastest-growing markets in the region. In no time we realized that we should do it together and we should do it as partners. It was, all in all, a match made in heaven."

–

Atin Bhutani, InCorp Group Chief Executive Officer
With this transition, we can further redefine and improve our corporate solutions to the next level from company incorporation, corporate secretarial work and corporate housekeeping, application for secondary licenses or permits, corporate restructuring, and general compliance work.
"InCorp has a vision of taking this idea of corporate services and making it a regional play, recognizing the unique high-growth opportunities in Asia-Pacific. The impact InCorp Global has had on our company enables us to take our services to the next level in terms of compliance and standards. We're able to provide our clients access to other markets."

–

Amanda Carpo, Country Head and President of InCorp Philippines
Acquisition of Strategic Investors
In May 2021, InCorp secured a strategic growth investment from TA Associates, a leading global growth private equity firm. The firm invests in profitable, growing companies with opportunities for sustained growth and focuses on targeted sectors such as technology, healthcare, financial services, and business services. 
Since its founding in 1968, TA has raised $33.5 billion in capital and is committing to new investments at the pace of over $3 billion per year. The firm's more than 100 investment professionals are based in Boston, Menlo Park, London, Mumbai, and Hong Kong. 
Lean Forward Into  With A Trusted Firm
With a sharper and simpler approach to corporate solutions in the Philippines, InCorp Philippines is dedicated to ensuring that our clients receive high-quality service and assistance when doing business in the Philippines and Asia-Pacific.