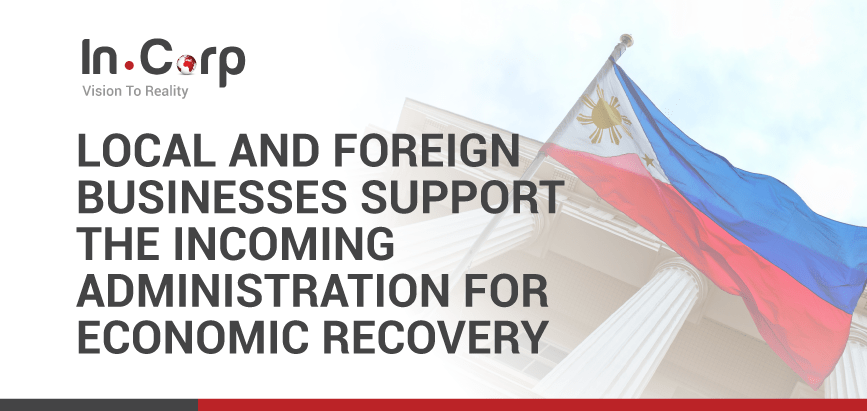 Local and Foreign Businesses Support the Incoming Administration For Economic Recovery
The Philippines' most prominent business group anticipates a rough ride ahead for the presumptive elected leaders of the country, including "blips in [credit] rating and downward trend" as a result of external factors affecting the domestic economy. The revival of the economy would be challenging even though foreign business groups support the new administration.
The Philippine Chamber of Commerce and Industry (PCCI) and the Joint Foreign Chambers (JFC) gave separate statements amid the approaching presidency of Ferdinand "Bongbong" Marcos Jr., following the broadening lead in the unofficial vote count, a day after the holding of the national elections on Monday, May 9.
PCCI President George Barcelon stated that despite the delays in the official results of the presidential race, it is likely to become a win for the UNITEAM.
Barcelon warned, "The president-elect BBM will be faced with the same financial challenges due to the prolonged COVID-19 pandemic and lately the geopolitical storm in Ukraine similar to other countries [debt and inflation issues]. There will be blips in rating and downward trend."
However, PCCI also expressed their confidence, stating, "We know better" as they cited the country's intact macro-economic fundamentals and economic reforms.
Barcelon associated the sound country's macro-economic fundamentals with Finance Secretary Sonny Dominguez for giving a "sound take off point" for the new administration.
For now, JFC mentioned, "hope to continue to work closely with government officials at all levels" around the country for the recovery from the pandemic and to maintain high levels of GDP growth, infrastructure development, job creation, and foreign direct investment (FDI) inflows.
JFC, which is composed of six foreign business groups, stated that this could be successfully achieved by, "continuing the governance and policies of the current and previous administrations."
Barcelon described the process of the national and local elections on Monday, May 9, as "generally peaceful and credible."
He commended the Commission on Elections (COMELEC), National Citizens' Movement for Free Elections, and Parish Pastoral Council for Responsible Voting.
He mentioned, "Let's give the incoming administration time to draw up and share their plans in making our country more progressive." Barcelon urged everyone to "stay positive."
JFC congratulated the Philippines for showing the "strength of its democracy" during the campaign and elections.
JFC statement comprises business chambers from the US, Australia-New Zealand, European, Japanese, Korean, and Philippine Association of Multinational Companies Regional Headquarters.
The JFC is a coalition of the American, Australian-New Zealand, Canadian, European, Japanese, Korean, and Philippine Association of Multinational Companies Regional Headquarters, Inc. (PAMURI). It represents over 3,000 member companies engaged in around US$100 billion worth of trade and some $30 billion worth of investments in the Philippines.
JFC both supports and promotes open international trade, increased foreign investment, and improved conditions for business to benefit both the Philippines and the member countries of JFC.