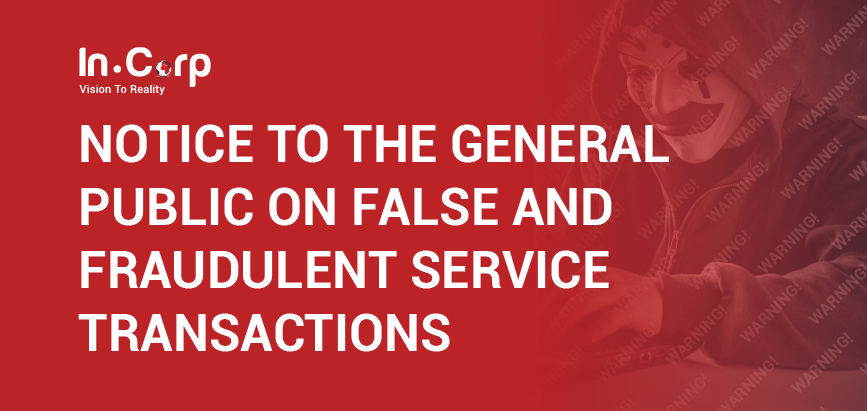 Notice to the General Public on False and Fraudulent Service Transactions
We would like to notify our clients that this/these individual/s claiming to be an employee of InCorp Philippines or any company under the InCorp Group of Companies is providing FALSE information and is NOT an employee of the company.
We would like to advise our client to avoid engaging with these individuals:
Name: Yhanni Haryanto
Our official officers, employees, and representatives only contact clients with "name@incorp.ph." We highly advise clients to practice extreme caution when dealing with individuals who do not use official InCorp Philippines email accounts. 
To protect you against phishing activities, we advise you to refrain from attempting to click embedded links within emails from unofficial contact persons or supply any confidential data or personal information to said individuals. 
The unauthorized use of InCorp Philippines' good name and intellectual property to defraud clients is illegal. We will use the full extent of the law to deal with these persons.
To guide you, InCorp Philippines have the following strategic partners: KMC Solutions, InCorp Talent Solutions, KMC Savills, Carpo Law and Associates, and AHC Certified Public Accountants. InCorp Philippines is also a member of In.Corp Group and is not affiliated with any other group of companies.
You may contact us through our official channels: 
Facebook: @incorpphilippines
Twitter: @InCorpPH
Email: info@incorp.ph
Phone: (+632) 8424-1350 | (+63) 998-962-0430
Website: https://kittelsoncarpo.com/
We apologize for any inconvenience this may cause. If you have concerns, made contact with the said individual/s, or find suspicious individuals claiming to be affiliated with us, you may contact us with the provided channels so that we may provide immediate action with the matter.