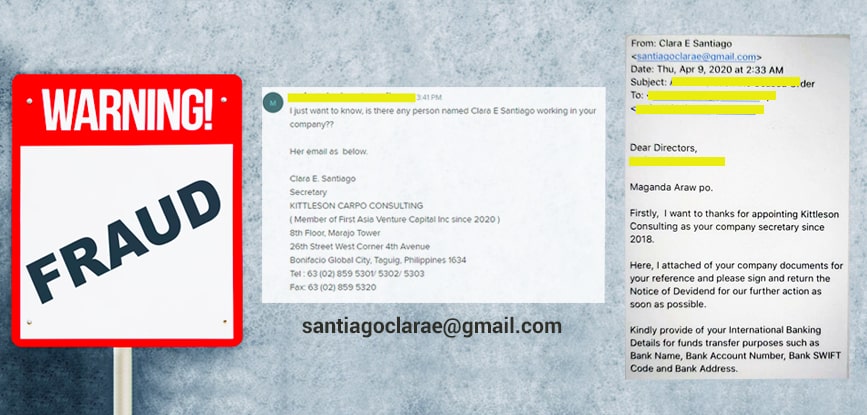 Notice to the General Public on Fraudulent Service Transactions
Kittelson & Carpo Consulting, Inc (KC) wishes to warn the general public that certain unauthorized persons have been unlawfully using our company name, or erroneous and/or misspelled variations thereof, in an effort to mislead potential clients into believing that they are conducting legitimate business.
Please be vigilant in dealing with persons who do not use official KC email accounts. KC's officers, employees, and representatives have email accounts in the following format: "name@kittelsoncarpo.com". Moreover, for your protection against phishing activities, do not attempt either to click the links embedded on the email or to supply any confidential data or personal information being requested.
KC has the following strategic partners: KMC Solutions, KC Global Talent Solutions, KMC Savills, Carpo Law and Associates, and AHC Certified Public Accountants. KC is also a member of In.Corp Group and is not affiliated with any other group of companies.
The unauthorized use of KC's good name and intellectual property to defraud clients is illegal. KC will use the full extent of the law to deal with these persons.
In this regard, please report any suspicious persons and correspondences by contacting us at +632 8424-1350. You may also email us at info@kittelsoncarpo.com to make a report or verify if the person you are transacting with is a lawful representative of KC.
You may also schedule an appointment to visit our office at 8th Floor, Marajo Tower, 26th Street West corner 4th Avenue, Bonifacio Global City, Taguig City, Metro Manila.