Palace Approves BOI's Latest IPP To Support Tax Incentives for Business Activities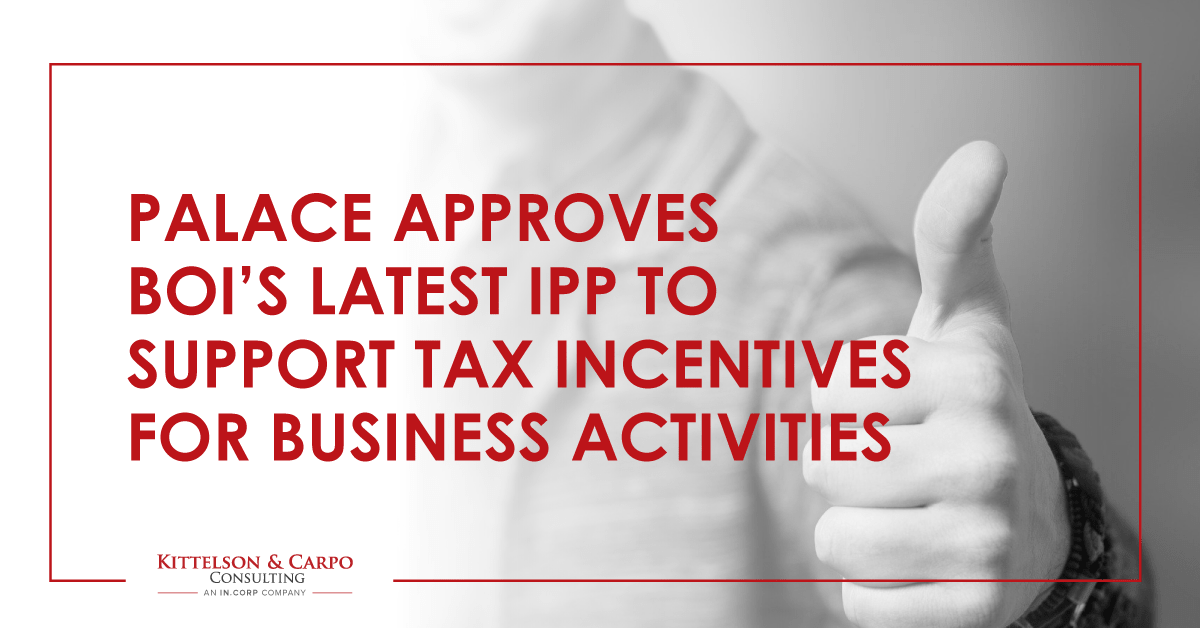 The Malacañang approves the 2020 Investment Priorities Plan (IPP), granting tax incentives to several business activities in response to the COVID-19 pandemic.
The IPP is a list of preferred business activities that qualify for tax incentives under the Board of Investments (BOI). Such incentives include an income tax holiday of four to six years. The IPP is renewed every three years. 
BOI Managing Head Ceferino Rodolfo stated that their agency submitted the proposed IPP earlier this year but withdrew the submission due to the pandemic. 
The withdrawal was made to revise and include tax perks for business activities such as the manufacturing of alcohol, face masks, and personal protective equipment (PPEs). Several projects were also included to support the Balik Probinsya program. 
Under the Memorandum Order No. 50 signed by Executive Secretary Salvador Medialdea, enterprises that are eligible for the tax break are:
The manufacturers of PPEs, medicines, sanitizers and other disposable cleaning materials, and the provision of laboratory and other related equipment. Crematoriums, health waste treatment, laboratories, test facilities, hospitals, and quarantines are also included.

Industrial goods and the processing of agriculture and fishery products, including halal and kosher foods, into semi finished, intermediate goods, or finished, consumer products.

Commercial production of agricultural, fishery and forestry products, as well as nurseries, hatcheries, postharvest facilities, and other support services.
Besides the focus on essential manufacturers and services that support the fight against COVID-19, the IPP also includes business that supports "countryside" employment or those located outside highly populous and urbanized areas. 
The full list of eligible activities can be accessed through the Official Gazette of the Philippines.