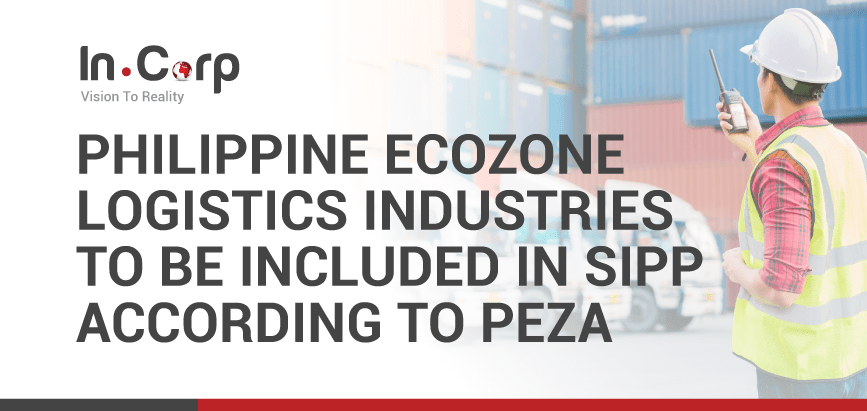 Philippine Ecozone Logistics Industries to be Included in SIPP According to PEZA
The Philippine Economic Zone Authority (PEZA) added economic zone logistics services enterprises (ELSEs) as part of the Strategic Investment Priorities Plan (SIPP) on Tuesday, February 7. 
ELSEs are entities that provide critical services to export manufacturing companies located in the ecozones. These export manufacturing companies require additional services, such as logistics support for shipments, raw materials sourcing, inventory management, punctual delivery, localization, and process customization.
In a statement, PEZA officer-in-charge Tereso Panga cited that companies that fall under ELSEs can now avail of incentives under Republic Act No. 11534 or the Corporate Recovery and Tax Incentives for Enterprises (CREATE) Act.
Panga stated, "We thank the Department of Finance (DOF), Department of Trade and Industry (DTI), Board of Investments (BOI), and the Bureau of Internal Revenue (BIR) for finally resolving our pending concern on the recognition and eligibility of ELSEs for registration with the investment promotion agencies (IPAs) with incentives." 
The BOI ruled ecozone logistics industries eligible in Memorandum Circular (MC) No. 2023-001, last issued on January 31. The MC clarified that the 2022 SIPP covers ELSEs. In addition, PEZA released MC No. 2023-010, and BIR issued Revenue Memorandum Circular No. 15-2023 on February 3. Both memorandums recognize ELSEs as suitable activities for SIPP.
Panga noted, "While the BOI has adopted our recommendation with the inclusion of support to export activities in the SIPP, we encountered a problem with the BIR RMCs that limited the grant of incentives to only those registered business enterprises whose activities are covered by their definition for the export enterprise. This 'limitation' has effectively barred both existing (prior to CREATE) and new locator investors (under CREATE) providing support to export activities from enjoying their incentives."
Panga added, "With the clarification issued by the BOI and BIR, the existing ELSEs can now enjoy their incentives (i.e., Zero VAT rating on qualified local purchases) pursuant to the sunset provision. For new ELSEs, they may be entitled to the incentives under the CREATE Act."