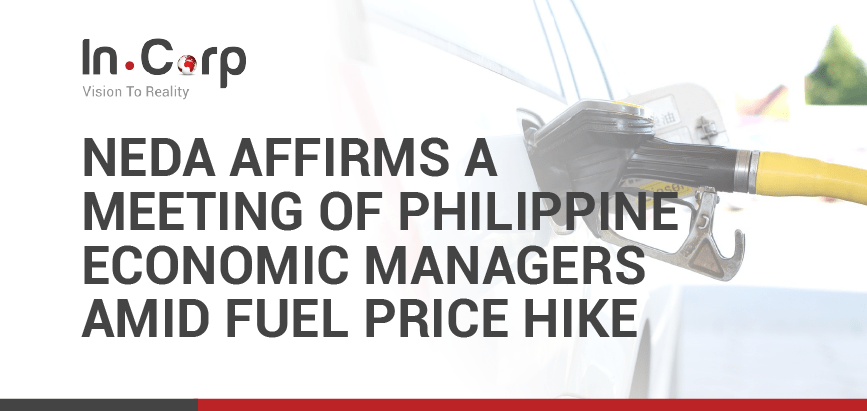 NEDA Affirms a Meeting of Philippine Economic Managers Amid Fuel Price Hike
The National Economic and Development Authority (NEDA) stated that Philippine Managers will hold a meeting on Monday, March 7, to discuss measures that can lessen the impact of surging fuel value, just as inflation remained steady last February.
NEDA Undersecretary Rosemarie Edillon noted on PTV that the agency will discuss the matter with the Banko Sentral ng Pilipinas (BSP) and the Department of Finance (DOF).
The Philippine Statistics Authority (PSA) stated that despite the war between Russia and Ukraine, the inflation rate remains at 3%.
To reflect the impact of the recent conflict between the two countries, analysts have concurred that inflation could rise in the near term.
Edillon noted, "Last February the inflation rate is not yet seen and the surge in oil price doesn't affect it. But of course, the trend will change this March since it's starting to rise."
Edillon mentioned that NEDA will present an analysis while checking the estimates in order to presents measures in the meantime or in the long run.
She added, "Once we get the estimate – like what we are doing before. What is the most important thing that must be given a solution. What is the short term and then, of course, the medium and long term solutions."
The Department of Energy (DOE) expressed that there were discussions with the Philippine National Oil Corporation (PNOC) on a planned fuel reserve program for the country if a shortage happens.
DOE Oil Industry Management Bureau Director, Atty. Rino Abad reported that according to his agency's monitoring as of Feb 28, the Philippines has "more than 40 days" of available oil supply.
This week, the administration approved ₱3 billion for assistance and discounts due to the rise in fuel prices to the affected sectors such as public utility vehicle (PUV) drivers, fishermen, and farmers.
In addition, the Malacañang mentioned that the administration approved the boosting of local food production to strengthen the economy as the conflict between the two countries soared.
Based on industry estimates, oil prices will rise as much as ₱3 to ₱5 per liter as an effect of the Russian and Ukrainian conflict.