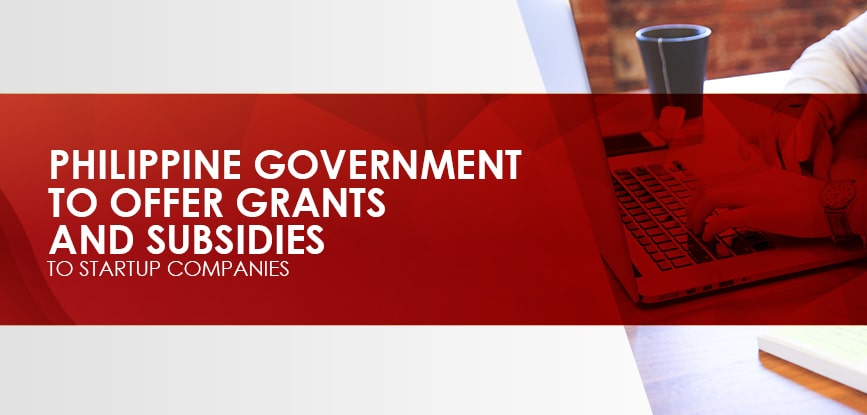 Philippine Government to Offer Grants and Subsidies to Startup Companies
The Philippine government is now encouraging local and foreign entrepreneurs to establish or develop their own startup company by offering special incentives and eliminating existing financial constraints to promote innovation in the country's startup community.
Enacted in April of this year, the Republic Act No.11337, or the Innovative Startup Act, provides the startup community with numerous benefits, such as the following:
subsidies in business registration, 

use of office space and equipment, and

grants in research and development. 
Under the new law, the Department of Foreign Affairs (DFA) will be mandated to provide special visas with multiple entry privileges to foreign startup owners, employees, and investors through the creation of the following startup visas:
Startup owner visa

– for prospective or current foreign owners of startup or startup enabler registered in the Philippines; 

Startup employee visa

– for foreign employees of a startup or startup enabler registered in the Philippines; and

Startup investor visa

– for prospective or current foreign investors of startup or startup enabler registered in the Philippines. 
The legislation also seeks to build the Philippine Startup Development Program that will be composed of industry-relevant seminars and programs. 
The Implementing Rules and Regulations (IRR) for the new law, is currently being drafted by its host agencies — the Department of Trade and Industry (DTI), the Department of Science and Technology (DOST) and the Department of Information and Communications Technology (DICT) and they will be leading its implementation.
According to Trade Undersecretary Rafaelita M. Aldaba, the law is expected to guide the Philippines in "catching up with our neighbors" in developing a vibrant startup community.
Thriving local startups lauded this development for the community but also shared their suggestions for the new law in retrospect of their experience in the industry. One of which was Katrina R. Chan, the director at a local startup organization, QBO Innovation Hub, who said having a clear legislative direction is what will be vital to helping startups flourish. 
"We want to make the Philippines a friendly place for startups — it's important that we set up the Philippines in such a way that it's easier for talent and ideas to prosper here no matter where they come from," said Ms. Chan.
"The government should form a regulatory body that startups can run to for protection," said Raphael Layosa, Founder and Chief Executive Officer of tech startup RetailGate.
"If you have the government hand-holding startups in that marathon, I'm sure you have fewer people giving up," he added.