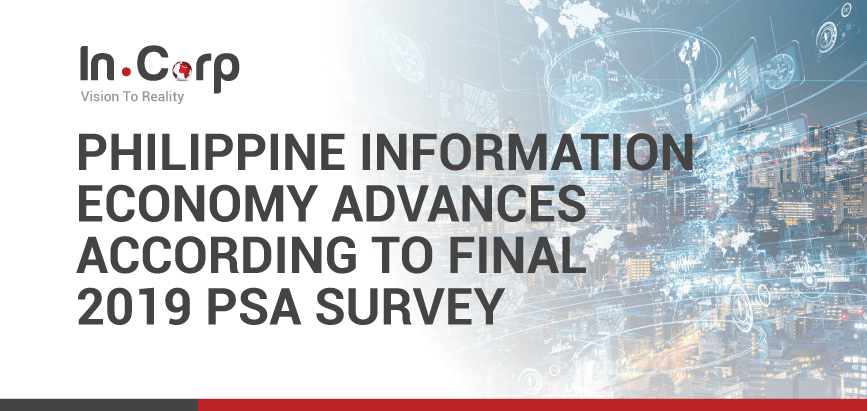 Philippine Information Economy Advances According to Final 2019 PSA Survey
Philippine Statistics Authority (PSA) released results of the 2019 Survey on Information and Communication Technology (SICT), indicating that businesses with mobile phone transactions have doubled while social media accounts nearly doubled.
According to the 2019 SICT for the Information Economy (IE), entities with mobile phone business transactions increased 133.1% to 2,280 firms in 2019 from 978 in 2017. And as for enterprises with accounts on social media platforms, the SICT showed a 94.9 % increase of 2,839 firms in 2019 from 1,457 in 2017.
The PSA noted, "The IE is a term used to describe the economic and social value created through the ability to rapidly exchange information at any time, anywhere to anyone," as it cited information from the United Nations Conference on Trade and Development (UNCTAD).
ICT and Content and Media are two sectors under the IE. For ICT, only entities engaged in manufacturing have full ownership and usage of computers and communication equipment. 
Furthermore, the PSA stated, "A distinctive characteristic of the IE is the intensive use by businesses of ICT for the collection, storage, processing, and transmission of information. The use of ICT is supported by [the] supply of ICT products from an ICT-producing sector and through trade." 
Based on the PSA, IE industries that focus on Information and Communication Technology (ICT) services have the highest number of entities, reaching 1,437. These establishments use mobile devices such as phones or smartphones to deal with business transactions. In addition, IE industries engaged in ICT manufacturing only have 55 establishments.
And as for IE industries with accounts on social media platforms, the PSA data showed that  ICT service industries had reached up to 1,745 establishments. The figures added that the least social media accounts were those engaged in ICT, with only 67 establishments.