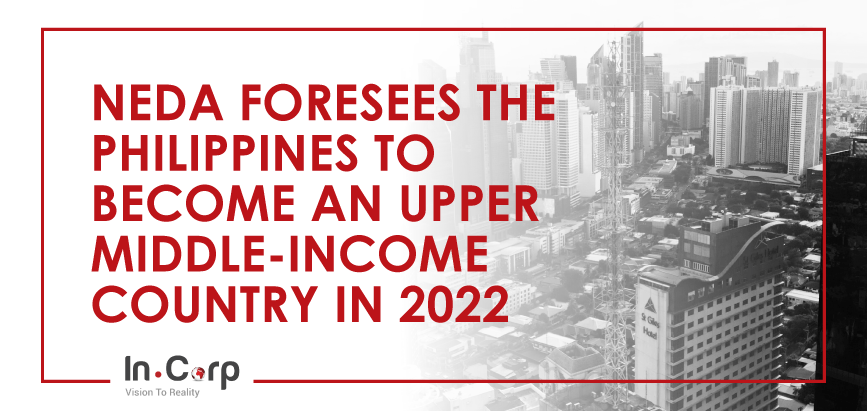 NEDA Foresees the Philippines to Become an Upper Middle-Income Country in 2022
The National Economic and Development (NEDA) predicts the Philippines may become an upper middle-income country in 2022 as it shows continuous economic growth.
NEDA Undersecretary Rosemarie Edillon stated that the country was initially expected to reach the upper middle-income status from its current rank in 2020. It was halted when the COVID-19 pandemic struck the world. 
According to World Bank's standards, an upper middle-income country should have a per capita income of $4,096 and $12,695. Currently, only Thailand and Malaysia hold this kind of status in the Southeast Asian region. 
Edillon noted, "We think that by 2022, we could become an upper middle-income country. This means that our quality of living continues to improve."
She continued, "This is a big thing because this is a challenge for some countries"
Edillon added, "The country having a higher credit rating can therefore have wider access to more capital." 
Edillon noted that obtaining the upper middle-income status can give more employment opportunities and higher wages. 
She stated, "This could help businesses that want to expand, as more capital will be available to them at a lesser cost. If there are plenty of investments, then many jobs will be available here." 
The Philippine Statistics Authority (PSA) reported an expanded gross domestic product of 7.1% in the third quarter. 
The country's economic growth rate was at 4.9% in the first three quarters of 2022, and it will undoubtedly knock a full-year growth forecast range of 4-5%. 
According to Edillion, "The Philippines is set to reach its "pre-pandemic level" of economic growth by the end of the year or the first quarter of next year." 
Furthermore, Ediilion stated, "If we can surpass the 4-5% target then maybe we can reach our pre-pandemic level."
Last week, Metro Manila converted to Alert Level 2 allowing more establishments to re-open as the COVID-19 infection rate slows down.