Pro Business Series: Insider Tips on Doing Business in Asia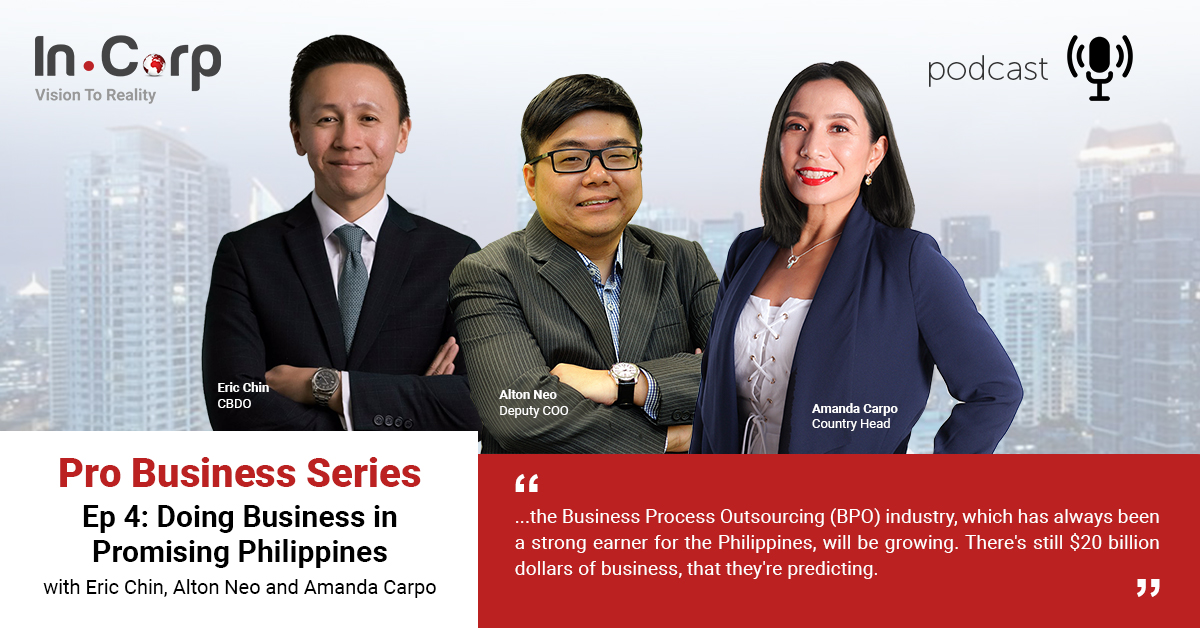 With a mission to help kickstart your entrepreneurial visions this year, Kittelson & Carpo Consulting, together with our parent company, InCorp Global, will be sharing insightful business tips and the latest market trends in Asia through a series of podcasts entitled "Pro Business Series: Insider Tips on Doing Business in Asia". 
Our latest podcast episode, "Doing Business in Promising Philippines", features a discussion between our hosts, Eric Chin and Alton Neo, and special guest, Atty. Amanda Carpo, (Country Head of InCorp Global in the Philippines and President of Kittelson & Carpo Consulting) on the following topics:
Key industry trends in the Philippines for 2021

Major states/cities with high growth potential for foreign companies

Special incentives/exemptions for foreign investors
Subscribe to our channels to listen to the previous episodes of our latest podcast series: 
Episode 1: Tech Industry in Singapore
Get a glimpse of the IT industry in Singapore, from different trends in the tech industry to government grants being offered in the country. Join us as we navigate through this ever-growing industry. 
Episode 2: Retail Trade Industry in Singapore
Is the retail industry in Singapore slowly dying? Or is it evolving in today's increasingly digitized business environment? In this episode, our hosts will explore the different shifts in the retail industry and how new entrepreneurs can jumpstart their retail business in Singapore. 
Episode 3: Wealth Management Industry in Singapore
As the top country for fund/wealth management, fund managers and high-net-worth individuals are setting their sights on Singapore. But what does exactly make Singapore this appealing? Find out in this episode as our hosts share the latest facts and figures about the country's wealth management industry.  
We release 15-minute episodes every Wednesday. You can tune in and subscribe to our channels on Spotify, Apple, Google, or visit the podcast section of InCorp Global's website to gain access to our latest episodes