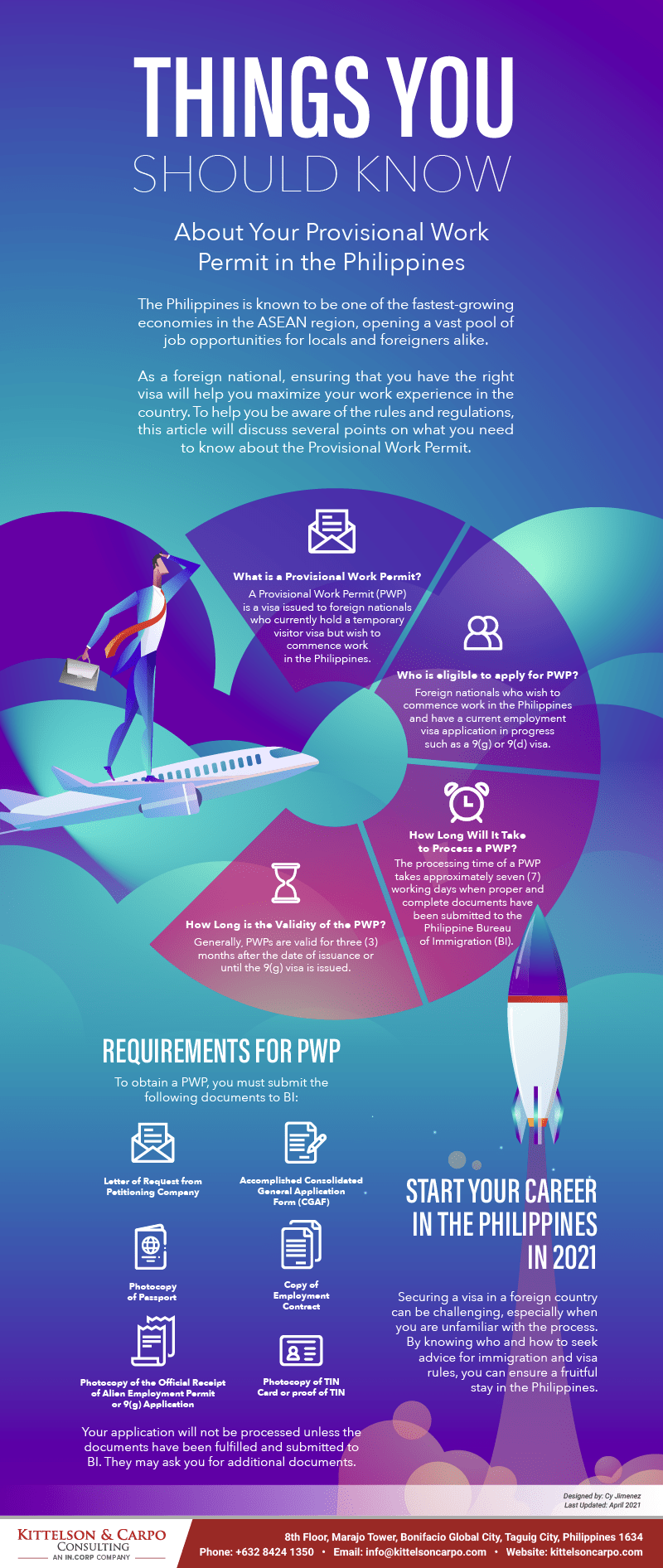 Things You Should Know About Your Provisional Work Permit in the Philippines [INFOGRAPHIC]
The Philippines is known to be one of the fastest-growing economies in the ASEAN region, opening a vast pool of job opportunities for locals and foreigners alike. 
As a foreign national, ensuring that you have the right visa will help you maximize your work experience in the country. To help you be aware of the rules and regulations, this article will discuss several points on what you need to know about the Provisional Work Permit. 
What is a Provisional Work Permit?
A Provisional Work Permit (PWP) is a visa issued to foreign nationals who currently hold a temporary visitor visa but wish to commence work in the Philippines. 
Who is eligible to apply for PWP?
Foreign nationals who wish to commence work in the Philippines and have a current employment visa application in progress such as a 9(g) or 9(d) visa. 
How Long Will It Take to Process a PWP?
The processing time of a PWP takes approximately seven (7) working days when proper and complete documents have been submitted to the Philippine Bureau of Immigration (BI). 
How Long is the Validity of the PWP?
Generally, PWPs are valid for three (3) months after the date of issuance or until the 9(g) visa is issued. 
Requirements for PWP
To obtain a PWP, you must submit the following documents to BI:
Letter of Request from Petitioning Company

Accomplished Consolidated General Application Form (CGAF) 

Photocopy of Passport 

Copy of Employment Contract

Photocopy of the Official Receipt of Alien Employment Permit or 9(g) Application

Photocopy of TIN Card or proof of TIN
Your application will not be processed unless the documents have been fulfilled and submitted to BI. They may ask you for additional documents. 
Start Your Career in the Philippines
Securing a visa in a foreign country can be challenging, especially when you are unfamiliar with the process. By knowing who and how to seek advice for immigration and visa rules, you can ensure a fruitful stay in the Philippines.
Apply for a Work Visa in the Philippines with Ease/span>
We have processed hundreds of work permit applications in the Philippines. With years of experience, we have the necessary tools to help you acquire the right work permit so you can start your career in the Philippines.