PSE to Remove Dormant Listed Companies from Registry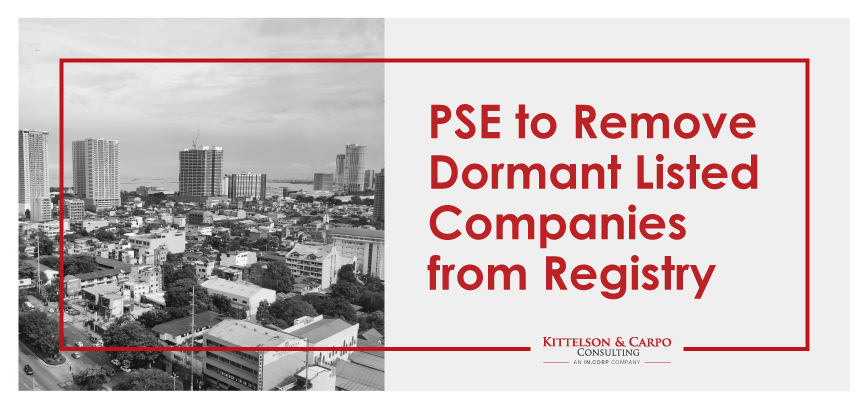 The Philippine Stock Exchange (PSE) plans to remove dormant companies from its registry to prohibit infinite trading suspension as part of the agency's efforts to improve the quality of issuers in the bourse.
The measure follows the long-running proposal to raise the minimum public ownership of listed companies from the current 10% to 25%. 
PSE President Ramon Monzon noted that the agency has so far identified eight to ten dormant companies that can be removed from their registry. 
Recently, PSE has initiated delisting proceedings against two companies, namely, Primetown Property Group and the defunct Export & Industry Bank (EIB). Both companies will be delisted on July 25 and July 18, respectively. 
EIB has been on trading suspension for 12 years now, while Primetown has not traded for 18 years.
Monzon instructed the newly appointed PSE Issuer Regulation Division Head Marigel Garcia to "clean up all these listed companies that have suspended trading for a long time."
Monzon also stated that PSE will initiate further delisting proceedings in the next few weeks. 
Upon involuntary delisting, the company cannot reapply for relisting with PSE within the next five years. Moreover, the sanction disqualifies the directors and executive officers of any company applying for listing within the same five-year period.
Monzon cited that one of the reasons for delisting was capital deficiency or negative stockholder's equity. 
Monzon noted, "There are those that have applied for voluntary suspension and have not traded [again]. One of the things we're looking at is having a rule that will set a time period. If you don't reopen for trading in three or five years, we're going to delist you."
So far, 14 companies have been delisted from PSE for various reasons, namely: Melco Resorts & Entertainment (2019); Calata Corporation (2017); Gotesco Land (2016); Marsteel Consolidated (2015); Alphaland Corporation (2014); PNOC Exploration (2013); Banco Filipino (2011); Wise Holdings (2011), Sanitary Ware Manufacturing (2011); Mondragon Philippines (2011); Landoil Resources (2004); Reynold Philippines (2003), Nasipit Lumber (2003), and San Carlos Milling (2001).