SEC Further Extends the Submission Deadlines of Annual Reports in the Philippines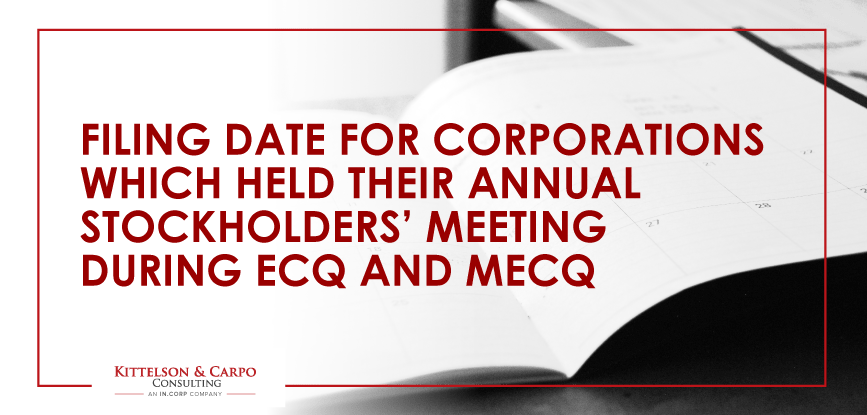 The Securities and Exchange Commission (SEC), in a notice dated August 11, 2020, has further adjusted the submission deadlines of Annual Reports, Annual Financial Statements (AFS), and General Information Sheet (GIS) due to reimplemented Modified Enhanced Community Quarantine (MECQ), which ended on August 18, 2020, covering the National Capital Region (NCR) and other areas of Luzon. The circular likewise reiterates the guidelines on the filing process for the compliance of concerned corporations. 
EXTENDED SUBMISSION DEADLINES OF ANNUAL REPORTS
Corporations with Fiscal Years (FY) ending on November 30 or December 31, 2019 shall be allowed to submit the hard copies of their AFS until September 30, 2020 regardless of their SEC registration or license numbers.
The following extended deadlines shall be followed by corporations whose FY end between January 31 to April 30, 2020: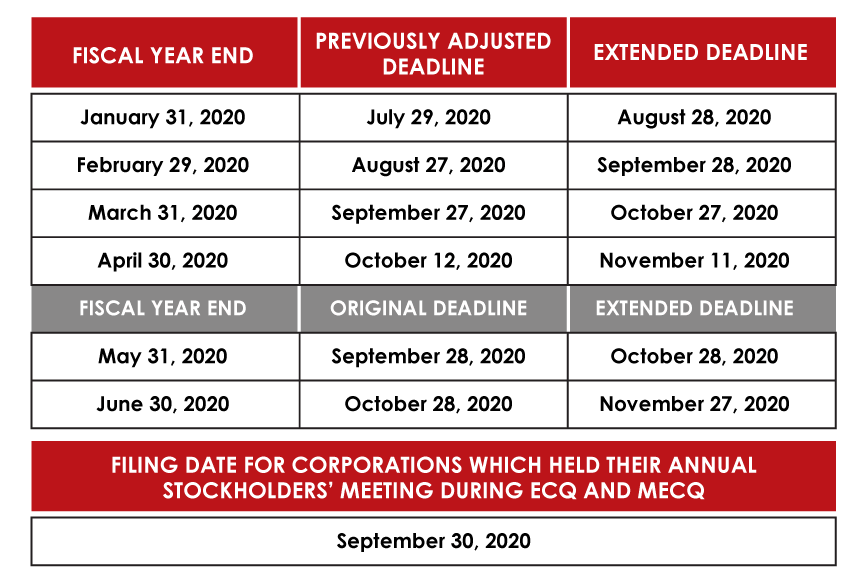 CORPORATIONS COVERED BY THE EXTENSION PERIOD
The following corporations shall be covered by the extended deadline and filing procedures indicated under the circular for the submission of printed/hard copies of AFS and GIS:
Corporations with FY ending with the ff.:

November 30, 2019

December 31, 2019

January 31, 2020

February 29, 2020

March 31, 2020

April 30, 2020

May 31, 2020

June 30, 2020

Corporations with annual stockholder's/member's meetings held during the ECQ and MECQ period in NCR and other cities or provinces where their respective principal offices are established.
CORPORATIONS EXCLUDED FROM THE CIRCULAR
The following corporations shall comply with the deadlines and processes indicated under the SEC Memorandum Circular (MC) No. 5, Series of 2020 and SEC MC No. 17, Series of 2020:
Publicly-listed companies (PLCs)

Issuers of registered securities other than PLCs

Public companies
Note: The formerly issued filing schedule based on the last digit of SEC registration number or license numbers shall no longer apply and be hereby replaced by the newly-issued extended deadlines.