SEC Issues Memorandum Upholding Stakeholders' Right to Inspect Corporate Records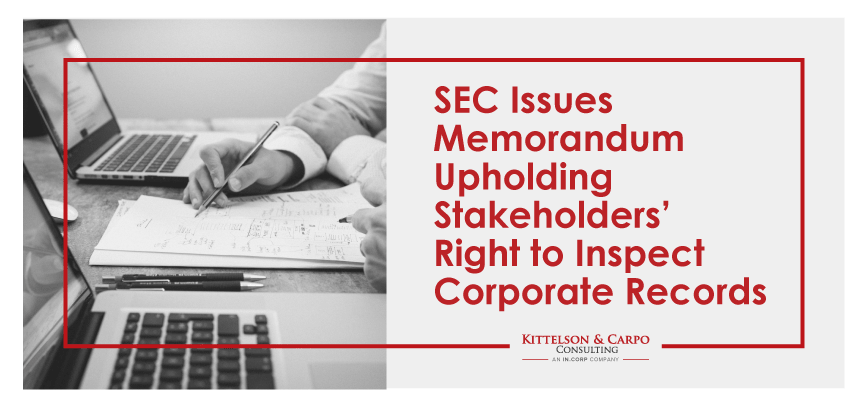 The Securities and Exchange Commission (SEC) released a memorandum that seeks to uphold the rights of stakeholders to inspect corporate records. This action was initiated after numerous complaints against companies refusing stakeholder's access to such records were filed to SEC. 
On August 20, the SEC issued Memorandum Circular No. 25 s. 2020, which stresses the right of any director, trustee, stockholder, or member of a corporation to request and gain access to copies or excerpts of corporate records for inspection, regardless of the form in which they are stored. 
The memo also confirms that the right is guaranteed under the Revised Corporation Code of the Philippines (RCC). 
If such rights are violated, the affected individuals may file a complaint with SEC, through the Company Registration and Monitoring Department or any of SEC's extension offices. Complainants will need to pay P10,130 for the filing fee, inclusive of the Legal Research Fee (LRF) and the Documentary Stamp Tax (DST). 
Under MC No. 25 s. 2020, a violation of a stakeholder's right is considered when: 
The company refuses to allow the stakeholder to inspect corporate records;

The company fails to take steps to allow access to corporate records; or

The company fails to give reasonable time to view and inspect corporate records.
Once the complaint is received, the regulator will investigate the case by summoning the involved parties to a clarificatory conference. The parties can settle the case peaceably, however, the SEC may continue with its investigation and decide on whether the respondents may be penalized. 
Nevertheless, such guidelines are still bound by confidentiality rules under prevailing laws such as the Intellectual Property Code of the Philippines, the Data Privacy Act, and the Securities Regulation Code. 
The penalized party will be sanctioned to any or all of the administrative sanctions listed in the RCC such as a P1,000-P5,000 fine per day of violation, a permanent cease and desist order, and dissolution of the corporation and forfeiture of its assets.