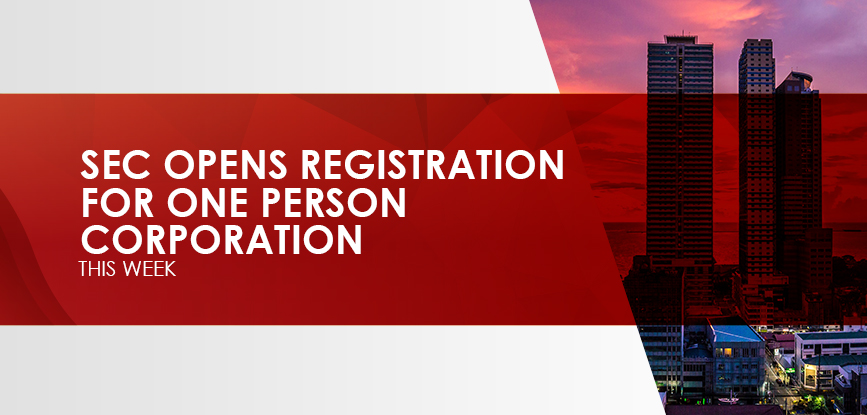 SEC Opens Registration for One Person Corporation This Week
The Securities and Exchange Commission (SEC) is now accepting applications for the registration of a One Person Corporation (OPC), a corporation with a single stockholder, following the issuance of the pertinent guidelines.
On April 25, SEC approved the Guidelines on the Establishment of a One Person Corporation under Memorandum Circular No. 7-2019. It was published on May 1 on two newspapers of general circulation.
Under the Guidelines, a natural person, trust or estate can form an OPC. However, the "trust" as used by the law does not refer to a trust entity, but the subject being managed by a trustee.
The incorporator shall be a natural person of legal age. A foreign natural person may put up an OPC, subject to the applicable constitutional and statutory restrictions on foreign participation in certain investment areas or activities.
The Guidelines also states that the following are not allowed to incorporate an OPC:
Banks

Non-bank financial institutions

Quasi-banks

Preneed, trust, and insurance companies

Public and publicly-listed companies

Non-chartered government-owned and/or -controlled corporations
A natural person licensed to exercise a profession is also not allowed to organize an OPC for the purpose of exercising such profession unless provided under special laws.
How to Register an OPC
You can register an OPC through five easy steps: name reservation and verification, pre-processing of articles of incorporation with the necessary attachments, payment of filing fees, submission of signed and notarized documentary requirements, and claiming of the certificate of incorporation.
Initially, you must file your application manually with SEC's Company Registration and Monitoring Department (CRMD) at the ground floor of the Secretariat Building in the Philippine International Convention Center in Pasay City.
Your application must include a cover sheet, the articles of incorporation of the prospective OPC, and the written consent of a nominee and alternate nominee that you, as the single stockholder, elected.  
If applicable, you must also submit proof of authority to act on behalf of a trust or estate incorporating as an OPC, and an application to do business under the Foreign Investments Act (FIA) if you, as the single stockholder, are a foreign natural person, among others.
For the complete list of requirements and the procedure for application, you can check this link.