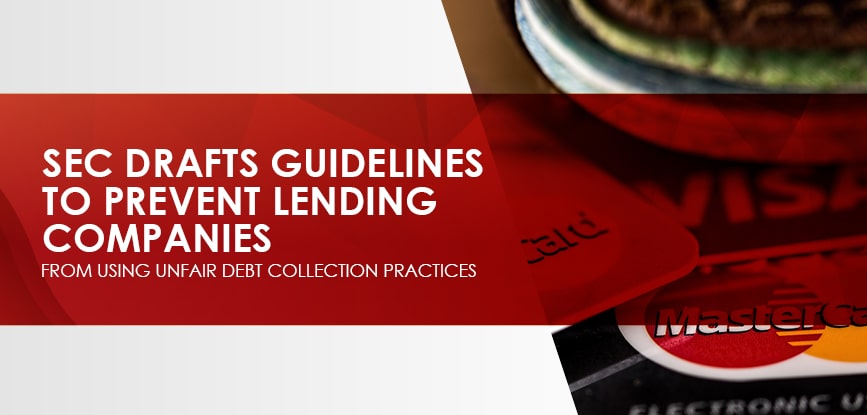 SEC Drafts Guidelines to Prevent Lending Companies from Using Unfair Debt Collection Practices
The Securities and Exchange Commission (SEC) is currently drafting guidelines to prevent lending companies (LC) and financing companies (FC) from using "unfair" debt collection practices on their borrowers. This follows after SEC received numerous complaints against LCs and FCs allegedly harassing borrowers and employing abusive, unethical, and unfair means to collect debt.
Section 1 of the proposed guidelines states that LCs and FCs, as well as third-party service providers (TPSPs) that both LCs and FCs may hire, can resort to "all reasonable and legally permissible means to collect amounts due them under the loan agreement" in good faith, and without using "unscrupulous and untoward acts".
Under the guidelines, unfair collection practices are defined as the following:
Use or threat of use of violence or other criminal means to harm the physical person, their reputation or their property;

Use of threats to take any action that cannot legally be taken;

Use of obscenities, insults or profane language;

Disclosure or publication of names or other personal information of borrowers who supposedly refuse to pay debts;

Use of false representation or deceptive means to collect or attempt to collect any debt; and

Making contact at unreasonable/inconvenient times or hours, before 8:00 AM or after 9:00 PM, unless the payment is past due for over 60 days or the borrower has given permission to be in contact during such times or hours.
Violations of the guidelines shall subject an LC to a penalty of P25,000 for the first offense and P50,000 for the second offense. Similarly, an FC will face a penalty of P50,000 for the first offense and P100,000 for the second offense. Third offense from both will result in suspension/revocation of their Certificate of Authority to operate as a Financing or Lending Company.
The proposed guidelines are open for public comments and suggestions until June 4.
You can view a copy of the guidelines here.