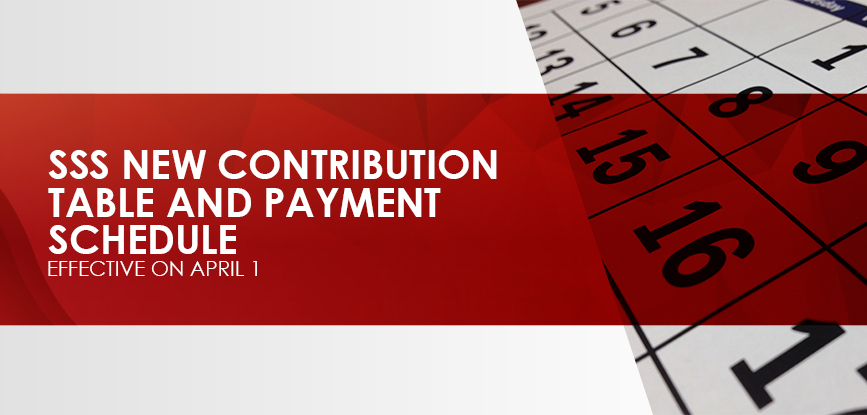 SSS new contribution table and payment schedule effective on April 1
Starting this month, the contribution rate for members of the Social Security System (SSS) will increase from 11% to 12%, pursuant to the Social Security Act of 2018, otherwise known as Republic Act No. 11199, signed into law by President Duterte on February 7 this year. The new contribution rates will be payable in May 2019.
The Social Security Commission, the SSS governing board, issued Circular No. 2019-05 on March 15 to prescribe the new contribution table that is scheduled to take effect this month.
Under RA 11199, the governing board has the power to increase the contribution rate by one percent every other year until it reaches 15%, starting from 2019 to 2025. Along with the contribution hike, the new SSS law also raised the monthly salary credit (MSC) minimum from P1,000 to P2,000 and the maximum from P16,000 to P20,000.
Private employees earning P19,750 and above a month have a maximum MSC of P20,000 and are required to contribute P2,400 monthly — from which two-thirds must be paid by the employer (P1,600) and the remaining amount paid by the employee (P800). The same shall apply to self-employed and voluntary members.
Also, those earning less than P2,250 will have a minimum MSC of P2,000 and must contribute P240 per month — P160 from the employer and P80 from the employee.
On the other hand, the contribution rate of non-working spouses shall be based on 50% of the MSC of their working spouse. But in the case that 50% of the working spouse's declared monthly income will not correspond to any MSC in SSS's updated contribution schedule, the immediately higher MSC shall be taken as basis.
The new contribution rates are part of an ongoing effort of the SSS to add 13 more years to its fund life to strengthen its pension fund and provide more loan assistance to its members.
You can view the new SSS Contribution Table below.