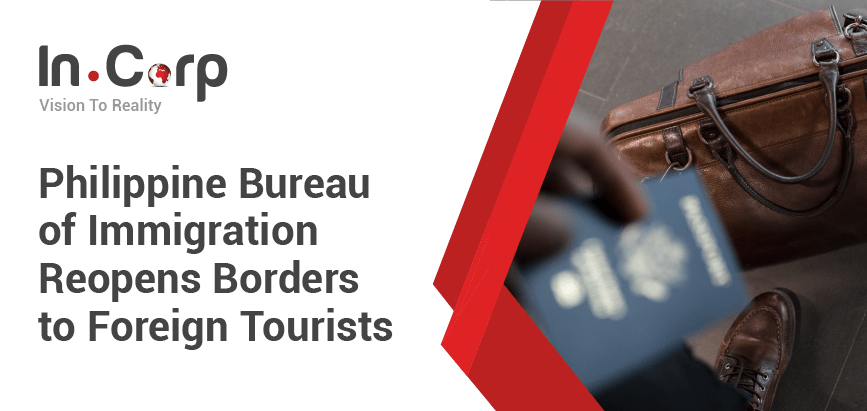 Philippine Bureau of Immigration Reopens Borders to Foreign Tourists
The Bureau of Immigration (BI) issued an advisory on Friday, January 28, announcing its plans to reopen Philippine borders to foreign travelers and tourists starting February 10. 
BI Commissioner Jaime Morante announced that fully vaccinated foreign nationals of non-visa required countries, under Executive Order No. 408 s. 1960 as amended, shall be allowed to enter the Philippines. 
Morente stated, "The opening of our borders to foreign tourists is a welcome development. We see this as a giant leap towards the rebound of the tourism and international travel sector."
The latest advisory was released in compliance with Resolution No. 159, from the Inter-Agency Task Force for the Management of Emerging Infectious Diseases (IATF-MEID). 
Tourists planning to travel to the Philippines will be required to present a passport valid for at least 6 months, along with the appropriate proof of vaccination from COVID-19. Accepted proof of vaccination can be of the following documents: 
World Health Organization (WHO) International Certificates of Vaccination and Prophylaxis;

VaxCertPH; or

National/state digital certificate of the foreign government which has accepted VaxCertPH under a reciprocal arrangement unless otherwise permitted by the IATF-MEID.
Moreover, travelers must submit a negative RT-PCR valid for 48 hours prior to the departure from their origin country. 
Fully vaccinated individuals are exempted from accomplishing facility-based quarantine protocols but are strongly advised to self-monitor for 7 days. 
Meanwhile, unvaccinated, partially vaccinated, and those whose vaccination status cannot be confirmed shall undergo the necessary quarantine protocols as implemented by BI and respective local government units (LGUs). Minors shall be exempted from providing proof of vaccination.