BIR Releases Full List of Vat-Exempt Medicines in the Philippines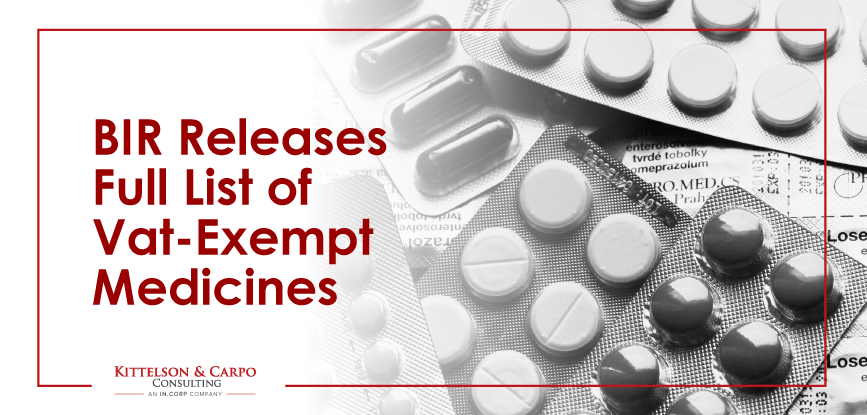 The Bureau of Internal Revenue (BIR) released Revenue Memorandum Circular (RMC) No. 62-2020 indicating the entire list of medicines exempted from Value Added Tax (VAT) specifically for illnesses such as Diabetes, High-Cholesterol, and Hypertension. 
The exemption has been implemented since January 27, 2020, pursuant to Section 1 of Republic Act (RA) No. 11467.
LIST OF MEDICINES
The following medicines below are exempted from VAT as indicated by the Food and Drug Administration (FDA):
ANTIHYPERTENSIVES
A. ANTIHYPERTENSIVES
Methyldopa
Clonidine
Doxazosin
Hydralazine
Sodium nitroprusside
Bosentan
Ambrisentan
Macitentan
Hydrochlorothiazide
Metolazone
lndapamide
Furosemide
Bumetanide
Torasemide
Furosemide + Potassium chloride
Spironolactone
Eplerenone
Hydroflumethiazide + Spironolactone
Tolvaptan
Pindolol
Propranolol
Metoprolol
Atenolol
Betaxolol
Bisoprolol
Esmolol
Nebivolol
Labetalol
Carvedilol
Atenolol + Chlorthalidone
Bisoprolol + Hydrochlorothiazide
Nebivolol + Hydrochlorothiazide
Metoprolol + Felodipine
Bisoprolol + Amlodipine
Metoprolol + Ivabradine
D. CALCIUM CHANNEL BLOCKERS
Amlodipine
Felodipine
Nicardipine
Nifedipine
Lacidipine
Manidipine
Lercanidipine
Verapamil
Verapamil + Trandolapril
Amlodipine + Hydrochlorothiazide
E. AGENTS ACTING ON THE RENIN-ANGIOTENSIN SYSTEM
Captopril
Enalapril
Lisinopril
Perindopril
Ramipril
Quinapril
Benazepril
Fosinopril
Zofenopril
Imidapril
Enalapril + Hydrochlorothiazide
Lisinopril + Hydrochlorothiazide
Perindopril + Indapamide
Ramipril + Hydrochlorothiazide
Quinapril + Hydrochlorothiazide
Perindopril + Amlodipine
Trandolapril + Verapamil
Perindopril + Indapamide + Amlodipine
Losartan
Valsartan
Irbesartan
Candesartan
Telmisartan
Olmesartan
Azilsartan
Fimasartan
Losartan + Hydrochlorothiazide
Eprosartan + Hydrochlorothiazide
Valsartan + Hydrochlorothiazide
Irbesartan + Hydrochlorothiazide
Candesartan + Hydrochlorothiazide
Telmisartan + Hydrochlorothiazide
Olmesartan + Hydrochlorothiazide
Valsartan + Amlodipine
Olmesartan medoxomil + Amlodipine
Telmisartan + Amlodipine
Losartan + Amlodipine
Candesartan + Amlodipine
Amlodipine + Valsartan + Hydrochlorothiazide
Olmesartan medoxomil + Amlodipine + Hydrochlorothiazide
Sacubitril and Valsartan
Aliskiren + Amlodipine
DRUGS USED IN DIABETES
INSULINS AND ANALOGUES
Insulin (human):

Biphasic Insulin
Biphasic Isophane Human Insulin
Human Regular Insulin
Insulin Human + Isophane Insulin Human
Neutral Insulin Human + Isophane lnsulin Human
Recombinant Human Insulin

Insulin aspart

Insulin aspart
Biphasic Insulin Aspart
Biphasic Insulin Aspart 30
Biphasic Insulin Aspart 50

Insulin degludec
Insulin degludec and Insulin aspart
Insulin degludec andLiraglutide
Insulin detemir
Insulin glargine
Insulin glargine and Lixisenatide
Insulin glulisine
Insulin lispro

rDNA origin
50% Insulin Lispro and 50% Insulin-Lispro-Protamine Sulfate
25% Insulin Lispro and 75% Insulin-Lispro-Protamine Sulfate
BLOOD GLUCOSE LOWERING DRUGS, EXCLUDING INSULINS
Biguanides (A10BA)
Sulfonylureas (A10BB)

Glibenclamide
Glipizide
Gliclazide
Glimepiride

Combinations of oral blood glucose-lowering drugs (A10BD)

Metformin and Sulfonylureas

Metformin and Glipizide
Metformin and Gliclazide
Metformin and Glimepiride
Metformin and Glibenclamide

Metformin and Pioglitazone
Glimepiride and Pioglitazone
Metformin and Sitagliptin
Metformin and Vildagliptin
Pioglitazone and Alogliptin
Metformin and Saxagliptin
Metformin and Linagliptin
Metformin and Dapagliflozin
Linagliptin and Empagliflozin
Metformin and Empagliflozin
Pioglitazone, Metformin, and Glimepiride
Saxagliptin and Dapagliflozin

Alpha-glucosidase inhibitors (A1OBF)
Thiazolidinediones
Dipeptidyl peptidase 4 

Sitagliptin
Vildagliptin
Saxagliptin
Linagliptin
Gemigliptin
Sitagliptin and Simvastatin

Glucagon-Iike peptide-l (GLP-l) analogues (A10BJ)

Exenatide
Liraglutide
Lixisenatide

Sodium-glucose co-transporter 2 (SGt inhibitors (A10BK)

Dapagliflozin
Canagliflozin
Empagliflozin

Other blood glucose-lowering drugs, excluding insulins
The bureau also issued an addendum to the list of vat-exempt drugs, citing inclusions and exclusions to the list.