Flexible Workspace Solutions in the Philippines
Initially occupied by freelancers and project-based employees, flexible workspaces are now an attractive business solution for companies of all sizes — from startups, SMEs, and multinational companies alike. Their ability to help companies scale inexpensively without sacrificing employee wellness is revolutionizing the global real estate industry.  
In the Philippines, the rise of flexible workspaces is mainly attributed to the influx of foreign companies looking for fully-equipped offices that they can rent for short-term while they test their market potential in the country.  
Unlike traditional office rentals, flexible workspaces are already furnished with work equipment, office amenities, and administrative support. So companies can save time and money on overhead expenses. Their pricing rates are also fixed, allowing business owners to stay on budget.   
The popularity of flexible workspaces in the Philippines has inspired a surge in their demand, prompting major property developers like Megaworld Corporation, Ayala Land, and Robinsons Land Corporation to develop their own flexible workspace portfolio. 
Choosing the Right Flexible Workspace Setup for Your Company
Flexible workspaces in the Philippines are generally categorized into three types:
Coworking Space

Serviced Office

Virtual Office
Coworking Space
The most popular type of flexible office, a coworking space, sometimes referred to as shared space or open office, is a fully-furnished area that offers the facilities of a large office for a small cost — you only pay for the space you need on your preferred duration, whether hourly, weekly or monthly. 
You can occupy as little as one desk and move in on the day you sign the contract. You can also access the common facilities in the shared space, which usually include pantries, open bars, business lounges, and sleeping quarters.    
Coworking spaces in the Philippines usually feature creative, quirky office layouts and ergonomic, cozy workstations. They are widely known for setting a new workplace culture, one that is mainly driven by flexible working and collaboration. 
A coworking space is ideal for those looking for the following:
Occupy fully-furnished workstation with access to common facilities 

Single-desk occupancy with an hourly, daily or weekly rate

Short-term occupancy with the option to terminate lease contract on short notice

Transparent fees for easier budgeting

Access to a prestigious office address

No building maintenance and office equipment purchase
RELATED ARTICLE: How Coworking Spaces Can Help Grow Your Business 
Serviced Office
A serviced office, sometimes called managed workspace, is a fully-furnished office space rented out exclusively to a single company on flexible terms. Occupants of serviced offices generally have access to meeting rooms, pantries, event spaces, cleaning and maintenance services, and fully-staffed reception desks. 
Serviced offices in the Philippines are usually pre-cabled, providing access to high-quality work equipment and high-speed internet connection. They also provide payroll, HR management, and staff leasing as add-on services. 
Though their rental terms are flexible, they can only be rented on a monthly basis (unlike coworking spaces which can be rented hourly, daily, weekly or monthly). Nonetheless, their fees are transparent, helping companies stay on their budget and scale up or down as required.  
A serviced office is ideal for those looking for the following:
Exclusive office space with access to private rooms and common facilities

Dedicated staff to handle payroll, HR management, reception, IT, and utility

Flexible monthly rental terms with the option to terminate lease contract on short notice

Transparent fees for easier budgeting

Access to a prestigious office address

No building maintenance and office equipment purchase
RELATED ARTICLE: What to Expect from a Serviced Office in the Philippines
Virtual Office
A virtual office is a unique office lease arrangement because it does not rent out an actual office, instead it enables clients to locate their official business address in a registered physical office for legal purposes while they operate their business virtually or remotely. This arrangement is common with entrepreneurs looking for cheap alternatives on fulfilling the requirement of having an office address to be able to register their business in the Philippines. 
The services in a typical virtual office engagement include mail forwarding, professional call answering and forwarding, call filtering and transfer, professional reception services, personalized voicemail, and courier services (receive mails and parcels on behalf of client). Access to meeting rooms and private rooms for business meetings is also available upon request. 
This type of flexible workspace is mostly utilized by small enterprises that operate a virtual business and only need a physical office address for legal purposes so they can save money on rental costs, office equipment, admin fees, and other overhead expenses. 
A virtual office is ideal for those seeking to: 
Have a registered office address to fulfill requirements for business registration

Cut costs on renting a physical office  

Register their business address in a prime office location 

Obtain a dedicated mail forwarding, professional call answering and forwarding, courier, and professional voicemail services provider

Access premium-grade meeting rooms for business meetings
RELATED ARTICLE: 7 Compelling Reasons Why You Should Get a Virtual Office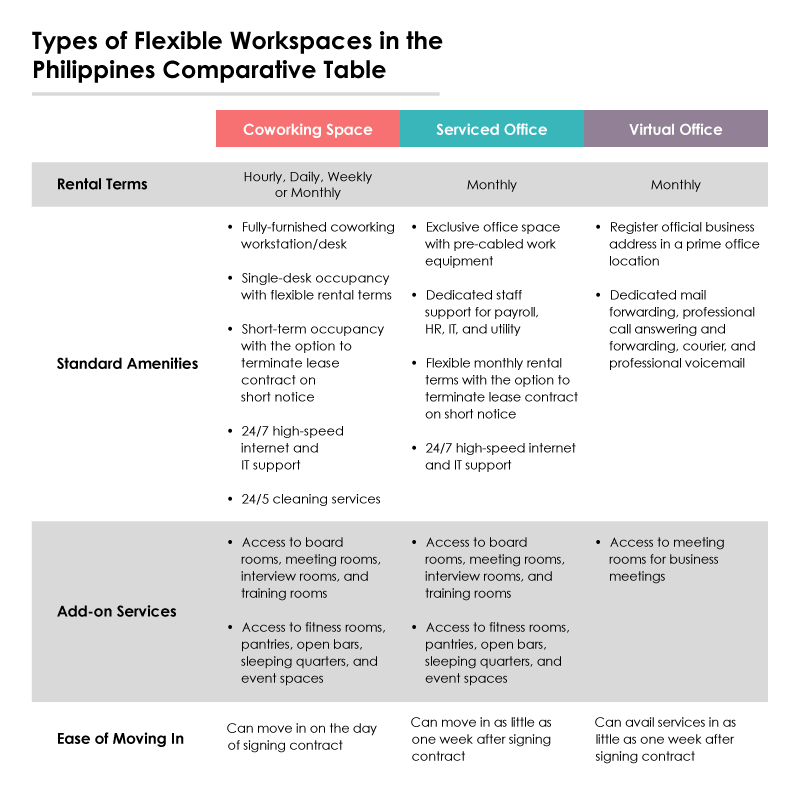 Looking for flexible office solutions in the Philippines?
Locate your business in a prestigious office address and enjoy the modern, ergonomic facilities of a premium workspace at a fraction of the cost of renting a traditional office.