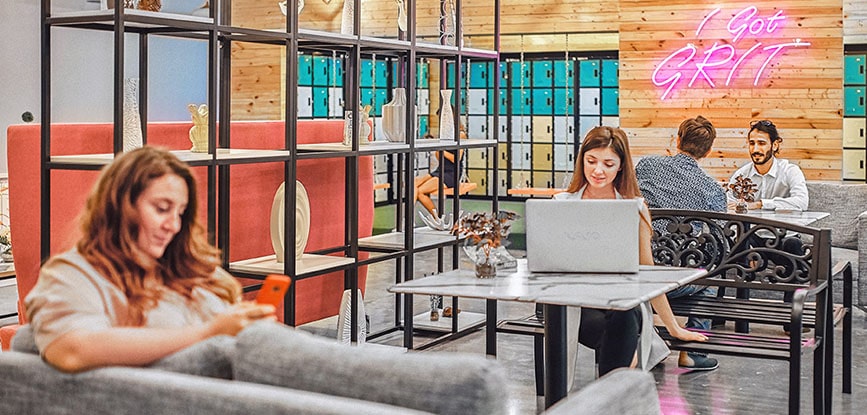 Office Spaces for Rent in the Philippines
We provide flexible workspace solutions to foreign and local businesses seeking to set up a registered office address in the Philippines. We offer consultancy services to clients looking for the following office setups:
Coworking Space
A coworking space, sometimes called shared spaces or open office, is a fully-furnished office space that offers a pay-per-use arrangement. In this setup, work equipment are not exclusive to the employees of a single company. They are shared among the other occupants of the coworking space, including freelancers. Utilities, reception, and pantry are also shared. 
The lease terms in a coworking space are flexible. A desk can be rented for an hour, week or month, depending on the client's preference. For this reason, this office setup is more common with freelancers and project-based employees who do not need to occupy a desk every day to work. 
With a combined number of 13,000 workstations, our coworking spaces are ideal for those looking to cut costs on work equipment, admin fees, and other overhead expenses. Our clients can rent any equipment and desk on flexible terms, whether hourly or monthly. Our rates are transparent, giving clients the ability to stay on budget while enjoying the amenities of a corporate office in a prime business location.   
Our coworking spaces are ideal for those looking for a collaborative environment where they can network with like-minded people while at the same time be able to work independently.
Want to work in a coworking space in the Philippines?
Collaborate with creative individuals in a cozy, flexible, and sociable workplace.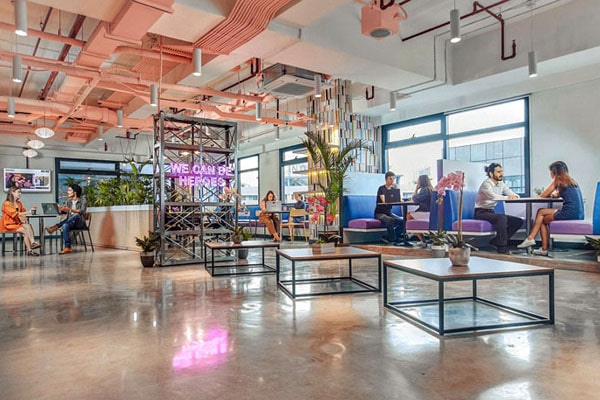 Serviced Office
Similar to a coworking space, a serviced office, or managed workspace, is a fully-furnished office space that offers a pay-per-use arrangement. But unlike coworking spaces, they are exclusive to the employees of a single company and managed by a dedicated administrative staff that provides payroll, HR management, front desk, IT, and utility services.
Our serviced offices are ideal for startups and foreign companies looking for an office space that will not tie them down with long-term lease contracts and hidden costs. Our fees are transparent and we provide clients the option to remain agile and expand or reduce their occupied spaces at short notice.   
Most of our serviced offices include private offices — a fully-furnished small room separated from the open space where employees can work in private.
Our offices feature plug-and-play workstations and a cozy, ergonomic office feel. We also give our clients access to our meeting rooms, pantries, fitness rooms, sleeping quarters, game rooms, huddle areas, and event spaces. 
Usual occupants of our serviced offices are startups and small-and-medium enterprises (SMEs) in need of an office floor to fit all their employees. Other occupants are IT-BPOs, contact centers or back offices of multinational companies leasing offshore staff from the Philippines to manage their administrative and back-office job functions.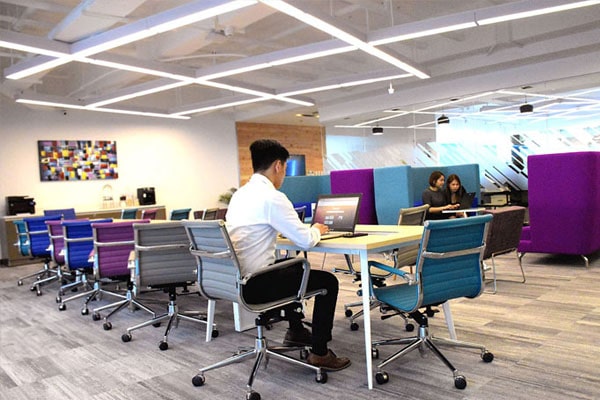 Looking for a serviced office in the Philippines?
We have serviced offices in multiple prime cities in the country, from Metro Manila to Cebu.
Virtual Office
Our virtual offices provide clients a registered business address without the need to occupy a physical office. With a virtual office, they are able to save a significant amount of money on rental costs, office upkeep, admin fees, and other overhead expenses. 
This office setup is ideal for entrepreneurs that operate a virtual business and only need a physical business address for mail forwarding, professional call answering and forwarding, personalized voicemail, and courier services.  
We also offer aspiring entrepreneurs the option to use any of our offices as their official business address while they undergo the business registration process. 
Looking for a virtual office provider in the Philippines?
Locate your virtual business in a prestigious office address and obtain dedicated mail forwarding, professional reception, and courier services.