SEC Adopts New Procedures on Filing of AFS and GIS After the Community Quarantine in the Philipines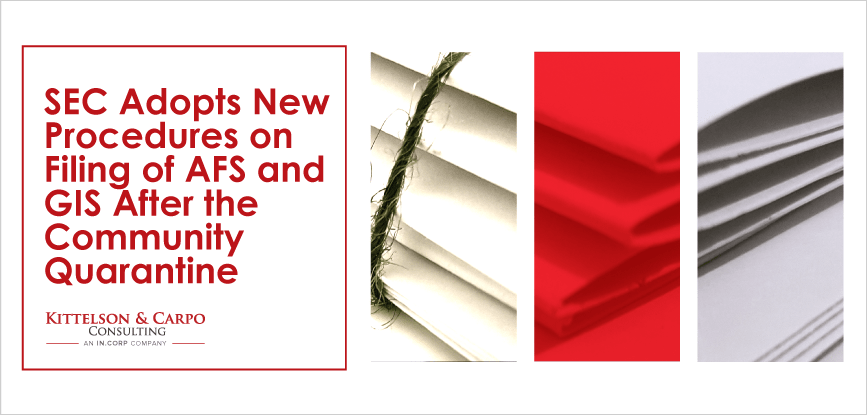 The Securities and Exchange Commission (SEC), under the SEC Memorandum Circular (MC) No. 18 Series of 2020, has adopted new procedures on accepting reports for Annual Financial Statements (AFS) and General Information Sheet (GIS) throughout the filing period after the Community Quarantine. The measure aims to furnish sufficient protection to personnel working under the Electronic Records Management Division (ERMD) and Information And Communications Department (ICTD) from unwarranted exposure to COVID-19.
ELECTRONIC FILING OF REPORTS
The filing of the following documents shall be allowed and accepted via electronic mail prior to the submission of their hard copy through SENS and/or PhilPost:
ENTITIES COVERED BY THE PROCEDURES
The following shall file the AFS and GIS via SEC Express Nationwide Submission (SENS) to any chosen courier and/or Philippine Postal Office (PhilPost):
Reports of corporations with principal office falling under the jurisdiction of any SEC Extension Office (EO) shall be filed to the nearest EO.
The process of the AFS filing shall only cover entities whose Fiscal Year (FY) ends on the following dates:
November 30, 2019

December 31, 2019
DIRECT FILING OF HARD COPIES
Hard copies of the reports may be directly filed to SEC via SENS Courier and/or PhilPost upon lifting of the Community Quarantine.
PROOF OF SUBMISSION
A "RECEIVED" stamp from the BIR or its authorized banks shall be visible on the AFS aside from the collated financial statements.*
*Other proof of submission such as bank slips shall only be accepted upon permission of the BIR.