FAQs of Filing Annual Financial Statements and General Information Sheet in the Philippines for F.Y. 2019
Registered corporations in the Philippines are required to annually file their General Information Sheet (GIS) and Annual Financial Statements (AFS) to the Securities and Exchange Commission (SEC) to provide the government formal records of their corporate information and financial activities for the last fiscal year. 
At the start of every year, SEC releases the schedule of filing of GIS and AFS to inform all registered entities of their schedule. For 2019, the schedule of filing for GIS and AFS, together with pertinent details, are provided below.  
What is the schedule of filing GIS for 2019?
All corporations must file their GIS within 30 calendar days from:
Stock Corporations

– date of actual annual stockholders' meeting

Non-Stock Corporations

– date of actual annual members' meeting

Foreign Corporations

– anniversary date of the issuance of the SEC License
What is the schedule of filing AFS for 2019?
Depending on the last digit of their SEC registration or license number, all corporations* whose fiscal year ends on December 31, 2019 shall file their AFS on the following schedule: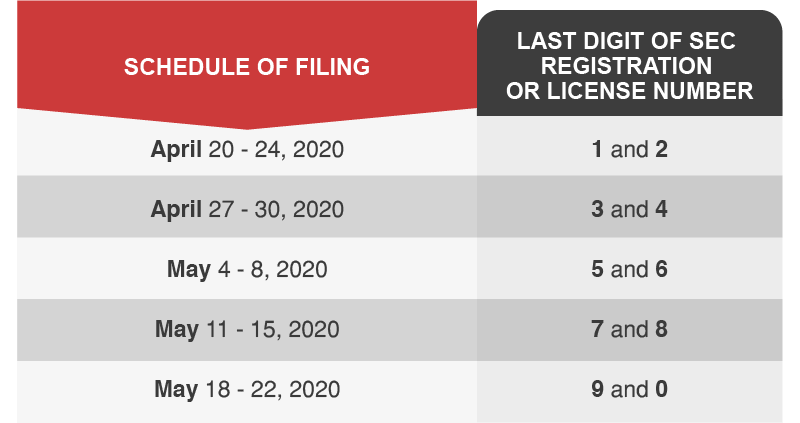 *Including Branch Offices, Representative Offices, Regional Headquarters (RHQ), and Regional Operating Headquarters (ROHQ) of foreign corporations. 
Does the filing schedule apply to all types of corporations?
No, it does not. The following corporations are not covered: 
Those whose fiscal year ends on

a date other than December 31, 2019

Those whose securities are listed on the Philippine Stock Exchange (PSE) and such securities are registered but not listed in PSE and public companies (

covered under Sec.17.2 of the Securities Regulation Code [SRC]

)

Those whose AFS are being audited by the Commission on Audit (COA), and the following documents are attached to their AFS:

Affidavit signed by the President and Treasurer attesting to the fact that the company timely provided COA with the financial statements and supporting documents and that the audit of COA has just been concluded; and 

Letter from COA confirming the information provided in the above affidavit.
What happens if I file my AFS beyond the deadline?
Late filings or filing after respective due dates shall be accepted starting May 25, 2020 and shall be subject to the prescribed penalties which shall be computed from the date of the last day of filing. 
What are the financial reporting thresholds?
Under the General Financial Reporting Requirements, corporations which meet the following thresholds must file AFS with an Auditor's Report:
Stock/Non-Stock Corporations with total assets or total liabilities of

P600,000 or more

 

Branch/Representative Offices of Stock Foreign Corporations with assigned capital in the equivalent amount of

P1 million or more

Branch/Representative Offices of Non-Stock Foreign Corporations with total assets in the equivalent amount of

P1 million or more

ROHQs of Foreign Corporations with total revenues in the equivalent amount of

P1 million or more
Corporations that do not meet their respective threshold above may submit their AFS with a duly-notarized Treasurer's Certification only (rather than an Auditor's Report).
Important Reminders
Corporations can file on or before their respective filing dates.   

All SEC satellite and extension offices in Cebu, Iloilo, and Davao are also governed by the schedule of filing of AFS. 

All corporations may directly file their AFS and GIS to SEC's Head Office, PICC

(Philippine International Convention Center Building, Manila)

as well as SEC's satellite offices and extension offices. 
Want to File Your AFS and GIS Hassle-Free?
Annually, we help hundreds of companies stay compliant with SEC by preparing and filing their AFS, GIS, and other compliance requirements with the government.